Feline Medicine - review and test - Elsevier eBook on VitalSource
,
Elsevier eBook on VitalSource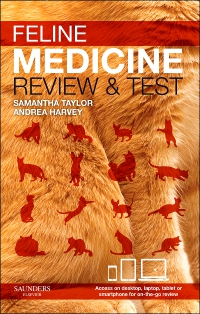 Or $0.00 with a valid access code
Unlike many feline self-assessment reviews, Feline Medicine – Review & Test goes in-depth into more than 70 clinical cases from a panel of international experts. This handy manual covers common health conditions in cats with descriptive and diagnostic images and clinical and laboratory data. It challenges you to formulate a differential diagnosis, suggest a recommended therapy pathway, provide an educated prognosis, and propose ways of prevention — then reveals the definitive diagnosis, treatment, preventative medicine, and final comments at the end of each case. You can also self-test on the go with the mobile-optimized companion website.
90 clinical cases fully developed and followed through in quick reprisal format.
Focuses on needs of the general practitioner and of the student
Panel of international experts contribute cases
All 90 print cases plus more challenging examples presented on our vet cpd website
Over 300 colour illustrations
Handy manual sized format with flexicover

1. Dermatological Disorders
2. GI and Hepatic Disorders
3. Haematological Disorders
4. Respiratory Disorders
5. Urinary Tract Disorders
6. Endocrinological Disorders
7. Neurological Disorders
8. Toxicity and Trauma
9. Miscellaneous Disorders

Samantha Taylor and Andrea Harvey