Examination of the Newborn and Neonatal Health - Elsevier eBook on VitalSource
Elsevier eBook on VitalSource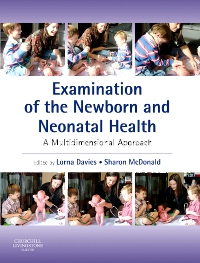 Imprint:
Churchill Livingstone
Or $0.00 with a valid access code
Examination of the Newborn contains the most up to date and comprehensive information on how to perform a complete assessment of the newborn infant. Specialists from different disciplines provide in-depth information on examination of the body systems, and the book includes discussion of the psychosocial and emotional elements resulting from any unexpected findings. An essential purchase for all health professionals wishing to enhance the quality of care they provide.
An essential guide to this most important of examinations
The first book to assist in the recognition of the psychosocial and emotional elements of physical disability that may impact on the family
Provides a multi-professional perspective, with contributors from specialists in their fields
Each chapter addresses the subject from a holistic perspective that includes ethical, legal and psychosocial aspects as well as the physical

1. The practical examination of the newborn

2. From gametes to fetus: a chronology of embryo development

3. Antenatal screening: the significance for the health of the newborn

4. Influences on the health of the newborn, before and during pregnancy

5. The neonatal period and beyond: short- and long-term consequences of intrapartum events

6. Maternal and newborn transition: adjustment to extrauterine life

7. Resuscitation of the newborn baby

8. Neurological, behavioural and growth assessment of the newborn

9. Congenital cardiac anomalies in the newborn: causes, effects and treatment

10. The newborn eye: visual function and screening for ocular disorders

11. Congenital abnormality - screening, diagnosis & communication

12. Neonatal jaundice: implications for newborn health

13. Neonatal skincare and cord care : implications for practice

14. Newborn screening and immunization

15. Helping parents make decisions

Appendix 1: Co-sleeping

Appendix 2: Vitamin K and VKDB

Lorna Davies, BSc(Hons), MA, PGCEA, RN, RM, Lecturer in Midwifery, Christchurch Polytechnic and Institute of Technology, New Zealand. and Sharon McDonald, RM, BSc(Hons), MA, PGCEA, RGN, Director of CPD & PG Portfolio, Senior Lecturer in Midwifery, Anglia Ruskin University, Cambridge, UK