Alexander's Nursing Practice - Elsevier eBook on VitalSource, 5th Edition
Elsevier eBook on VitalSource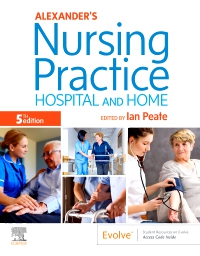 Or $0.00 with a valid access code
The latest edition of this popular volume has been fully updated throughout to meet the needs of the 2018 NMC Standards of Proficiency. Richly illustrated throughout, the book comes with 'real-life' Case Studies to help readers contextualise and apply new information, pathophysiology to explain disease processes, enhanced discussion of pharmacology and medicines management to assist with 'prescribing readiness', and helpful learning features which include Key Nursing Issues and Reflection and Learning – What Next?
Available with a range of supplementary online tools and learning activities, Alexander's Nursing Practice, fifth edition, will be ideal for all undergraduate adult nursing students, the Trainee Nursing Associate, and anyone returning to practice.
Duration for access to this product, which may be at the discretion of your institution, is up to 84 months. Elsevier reserves the right to restrict or remove access due to changes in product portfolio or other market conditions.
New edition of the UK's most comprehensive textbook on Adult Nursing!
Retains the popular 'three-part' structure to ensure comprehensive coverage of the subject area – Common Disorders, Core Nursing Issues and Specific Patient Groups
Illustrative A&P and pathophysiology help explain key diseases and disorders
'Real-life' Case Studies help contextualise and apply new information
Explains relevant tests and investigations and, when needed, the role of the nurse in the context of each of them
Helpful learning features include Key Nursing Issues and Reflection and Learning – What Next?
Encourages readers to critically examine issues that are related to care provision
Useful icons throughout the text directs readers to additional online material
Glossary contains over 300 entries to explain new terminology and concepts
Appendices include notes on Système International (SI) units and reference ranges for common biochemical and haematological values
Perfect for second and third-year undergraduate nursing students, senior Trainee Nursing Associates, those 'returning to practice' or needing to review practice and prepare for revalidation

Edited by the world-renowned Ian Peate – editor of the British Journal of Nursing – who brings together a new line up of contributors from across the UK and Australia
Reflects contemporary issues such as the complexity of acute admissions and the increasing importance of the multidisciplinary approach to patient care
Reflects the 2018 NMC Standards of Proficiency for Nurses and the NMC 2018 Code
Helps prepare students for 'prescribing readiness', with basic principles of pharmacology, evidence-based person-centred approaches to medicines management and an understanding of the regulatory, professional legal and ethical frameworks
Recognises the introduction of the Nursing Associate role in England

1 The essence of nursing

2 The nursing team

Section 1: Care of patients with common disorders

3 Nursing patients with cardiovascular disorders

4 Nursing patients with respiratory disorders

5 Nursing patients with gastrointestinal, liver and biliary disorders

6 Nursing patients with endocrine and metabolic disorders

Part 1 Nursing patients with endocrine disorders

Part 2 Nursing patients with diabetes mellitus

7 Nursing patients with disorders of the lymphatic and immune systems

8 Nursing patients with disorders of the breast and reproductive systems

Part 1 Nursing patients with disorders of the reproductive systems

Part 2 Nursing patients with disorders of the breast

9 Nursing patients with urinary disorders

10 Nursing patients with disorders of the nervous system

11 Nursing patients with musculoskeletal disorders

12 Nursing patients with blood disorders

13 Nursing patients with skin disorders

14 Nursing patients with disorders of the eye and sight impairment

15 Nursing patients with disorders of the ear, nose and throat

Section 2: Core nursing issues

16 Medicines management

17 Infection prevention and control

18 Recognizing and managing shock

19 Pain management

20 Maintaining fluid, electrolyte and acid-base balance

21 Nutrition and health

22 Tissue viability and managing chronic wounds

23 Maintaining continence

Section 3: Nursing specific patient groups

24 Nursing the patient undergoing surgery

25 Nursing the patient who experiences trauma

26 Nursing the unconscious patient

27 Nursing the critically ill patient

28 Nursing the patient with burn injury

29 Nursing the patient with cancer

30 Care and rehabilitation of people with long-term conditions

31 Nursing patients who need palliative care

32 Nursing care for older patients

33 Nursing patients with sexually acquired infections and HIV/AIDS

Appendix

Glossary

Ian Peate, OBE, FRCN, EN(G) RGN, DipN(Lond), RNT B.Ed (Hons), MA, LLM, Head of School, School of Health Studies, Gibraltar Health Authority, Gibraltar; Editor in Chief British Journal of Nursing; Visiting Professor St George's University of London and Kingston University London; Visiting Senior Clinical Fellow University of Hertfordshire, UK