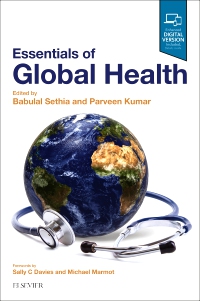 Publication Date:
05-23-2018
Essentials of Global Health, 1st Edition
Paperback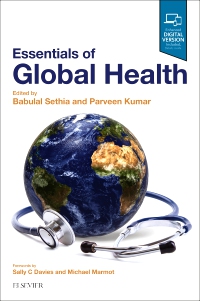 Publication Date:
05-23-2018
This unique introduction to the essentials of global health has been constructed by medical students from all over the world through the help of Medsin (now Students for Global Health) and the International Federation of Medical Students' Association (IFMSA). The global student and trainee author team, recruited and guided initially by Drs Dan and Felicity Knights (themselves students and officers of Medsin when work commenced), identified the key areas to be covered. Then the book they put together was edited by two experts in the field: Mr B Sethia and Professor Parveen Kumar.
Royalties raised from this book go to a grant fund for student global health projects.
Written by medical students and junior doctors from Students for Global Health and the International Federation of Medical Students' Association (IFMSA).

Edited by two experts in the field, Mr B Sethia and Professor Parveen Kumar.

Royalties go to a grant fund for student global health projects.

What is Global Health?

A History of Global Health

Key Concepts in Global Health

The Global Burden of Disease

Determinants of Health

Evaluation of Healthcare

Healthcare Provision

Health Systems

Health Sectors

Universal Health Coverage

Access to Medicines

The Health Workforce

Global Health Actors

The UN and the WHO

International Organisations

National Governments

Non-Governmental Organisations and Social Movements

Building Equitable Partnerships

Politics, Economics and Education

Poverty, Social Inequality and Health

Trade and Health

Health and Industry

The Pharmaceutical Industry

Health Policy and Research

Education and Health

Law, Ethics and Human Rights

Human Rights and Health

Law and Health

Access to Health for Vulnerable Groups

Ethics and Health

Social Theories and Health

Culture, Religion, Ethnicity and Health

Specific Global Health Challenges

Communicable Diseases

Neglected Tropical Diseases

Non-Communicable Diseases

Ageing & Dying

Mental Health

Maternal Health

Child Health

Global Dental Health

Violence & Injury

The Environment

Climate Change and Energy

Natural Disasters

Conflict and Health

Food and Agriculture

Urbanisation and Transport

Water, Sanitation and Hygiene

Babulal Sethia, BSc MB BS FRCP FRCS, Consultant Cardiac Surgeon, Royal Brompton Hospital and Harefield NHS Trust; Past-President and Global Health Lead of The Royal Society of Medicine, London UK and Parveen Kumar, DBE, BSc, MD, DM, DEd, FRCP, FRCP(L&E), FRCPath, FIAP, Professor of Medicine & Education, Barts and The London School of Medicine and Dentistry, Queen Mary, University of London, and Honorary Consultant Physician and Gastroenterologist, Barts Health NHS Trust and Homerton Hospital NHS Foundation Trust, London, UK