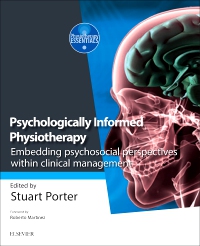 Publication Date:
11-28-2016
Psychologically-Informed Physiotherapy Elsevier eBook on VitalSource, 1st Edition
Elsevier eBook on VitalSource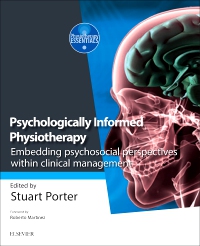 Publication Date:
11-28-2016
Or $0.00 with a valid access code
Psychologically Informed Physiotherapy is a key new textbook for those who need a trusted and comprehensive resource to guide them in applying psychosocial perspectives to their physiotherapy practice.
The first of its kind, this textbook brings together an international and interdisciplinary team of leading experts in the field. Together they present an evidence-based range of ideas and concepts around the psychologically informed practice framework, bringing psychosocial aspects of physiotherapy to the fore alongside the established biomedical model. By applying these aspects to screening, exploration and triaging, physiotherapists are better able to identify the origins of pain and barriers to rehabilitation; and so are more likely to achieve consistently good clinical outcomes for their patients. Throughout, clinical case studies ensure that the theory is then grounded in a variety of practical scenarios after which some reflective exercises and clinically relevant scenarios reinforce learning and understanding.
Chapters on:
Psychology of professional identity in health care
The biopsychosocial model
Screening for red flags
Adapting interactions with others to form empowering relationships and influence behavioural change
Neuro-immune-endocrine interactions and clinical practice in stress, pain and recovery
Care of the anxious patient through cognitive and person-centred strategies
Alternative and evolving models of practice, including the clinical flag system
The psychology of the athlete from the physiotherapist's perspective
Using counselling and psychological strategies within physiotherapy
Making evidence-based decisions and measuring effectiveness in practice
Using psychological interventions as a student or new graduate
First textbook of its kind for physiotherapists
Ideal confidence booster for both students and practitioners new to the subject
Illustrates the role social factors have on thoughts, emotions and behaviour in patients as well as the neurobiological manifestations of social stressors
Presents key, evidence-based concepts from leading international academics, clinicians and researchers in the field and across a range of health professions, including counselling and psychology

Foreword by Roberto Martinez Preface Dedication Acknowledgements Contributors

1 Professionalism And The Psychology Of Professional Identity In Health Care Graham Copnell

2 The Biopsychosocial Model: An Overview Alec Rickard

3 Screen For Red Flags First: Don't Take The 'Bio' Out Of Biopsychosocial Sue Greenhalgh, James Selfe

4 Psychosocial Aspects Of Practitioners: Adapting Our Interactions With Others To Form Empowering Relationships Jennifer E Green-Wilson

5 Stress, Pain And Recovery: Neuro-Immune-Endocrine Interactions And Clinical Practice Lester E Jones

6 Care Of The Anxious Patient: Understanding And Managing Anxiety Through Cognitive And Person-Centred Strategies Andrew L Evans, Anthony J Hickey

7 Supporting, Complementary, Alternative And Evolving Models Of Practice: Towards The Development Of Your Biopsychosocial Practice Alan Chamberlain

8 The Psychology Of The Athlete – The Physiotherapist's Perspective Andrew Mitchell

9 Using Counselling And Psychological Strategies Within Physiotherapy Louise Henstock, Helen Carruthers, Christine Parker

10 Making Evidence-Based Decisions And Measuring Effectiveness In Psychologically Informed Practice Louise Henstock, Helen Carruthers

11 Using Psychological Interventions As A Student Or Newly Qualified Physiotherapist – Personal Reflections 1 Year Post Qualifying Katherine E Crook

Index

Stuart Porter, Ph.D. BSc.Hons, SFHEA, PGCAP.Grad.Dip.Phys .M.C.S.P. HCPC. Cert M.H.S. MLACP, Lecturer in Physiotherapy; Visiting lecturer, Universidade Paulista, Sao Paulo, Brazil; Sen. Fellow Higher Education Academy; Admissions Officer Full Time; Prog. Registered Expert Witness; Chartered Society of Physiotherapy; External examiner, University of Liverpool; MSc Veterinary Physiotherapy