The Evidence-Based Practice Manual for Nurses - Elsevier eBook on VitalSource
, 4th Edition
Elsevier eBook on VitalSource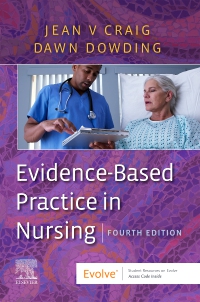 Or $0.00 with a valid access code
Not Yet Available
Coming Soon!
Expected availability date: 12-01-2019
The Evidence-Based Practice Manual successfully breaks down the skills required for evidence-based nursing into manageable components. The reader will learn how to find, critically read and interpret a range of research studies, and will discover optimal approaches towards helping patients reach decisions that are informed by the best-available evidence. The more-strategic concepts of developing an organisational evidence-based culture and making evidence-based changes at the organisational level are addressed in the final chapter. This popular book comes with helpful online exercises including NCLEX questions for the US readership.
Duration for access to this product, which may be at the discretion of your institution, is up to 84 months. Elsevier reserves the right to restrict or remove access due to changes in product portfolio or other market conditions.
Helps students learn to read and understand research results as a foundation for evidence-based practice
Easy writing style makes a potentially difficult subject accessible and enjoyable
Explains how to search the literature and rank it according to the strength of its evidence
Case studies, scenarios and exercises 'bring the subject to life'
Clearly explains the process of critical appraisal – quality of the study, interpretation of the results, and applicability of the findings to individual patients
Explains the various means of applying data from population studies to the individual
Offers practical advice on how to communicate risks and benefits to patients
Contains a glossary of useful terms

New editorship brings an international dimension to the content
Includes a new chapter on mixed methods studies
Expanded discussion of the evaluation of qualitative systematic reviews
Updated information on the implementation of guidelines and the current role of evidence in healthcare organisational policy
Now published in full colour throughout

1 Evidence-Based Practice in Nursing

2 How to ask the right question

3 Searching the literature

4 Using evidence from qualitative studies

5 Using evidence from quantitative studies

6 Using evidence from mixed methods studies

7 Using evidence from systematic reviews

8 Evidence-based guidelines

9 Using research evidence in making clinical decisions with individual patients

10 How can we develop an evidence-based culture?

Glossary

Jean V. Craig, PhD, MSc, RSCN, RGN, Research Advisor, NIHR Research Design Service for the East of England (Norfolk and Suffolk), Norwich Medical School, University of East Anglia, Norwich, UK and Dawn Dowding, PhD, RN, FAAN, Professor in Clinical Decision Making, Division of Nursing, Midwifery and Social Work, The University of Manchester, Manchester, UK; Former Professor of Nursing at Columbia University School of Nursing and the Visiting Nurse Service of New York, New York, USA