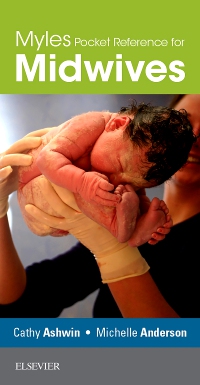 Publication Date:
06-20-2017
Myles Pocket Reference for Midwives, 1st Edition
Spiral Bound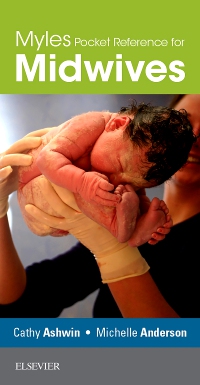 Publication Date:
06-20-2017
Free Shipping!
In Stock
This item has low stock levels and may be back-ordered. We'll let you know if it is back-ordered, and you will not be charged until the item ships.
Well illustrated with over 100 figures, tables and pull out boxes this slim pocket reference includes a wealth of information ranging from communications skills, drug calculations and administration, to clinical examination and complications in labour. Designed to be carried in a scrubs/uniform pocket, this helpful guide will be ideal for all midwives whether qualified or in training.
Helpful bullet point style enables rapid access to essential information

Splash proof cover ensures durability

Rich illustrative programme enables rapid access to key information

PART 1 THE MIDWIFE'S ROLE

Record keeping

Communication skills

Drug calculations and administration

Using SI units

Formulae for dosage calculations

PART 2 UNCOMPLICATED PREGNANCY AND BIRTH

Antenatal care

The start of care and arranging appointments

Infections

Antenatal examination

Problems associated with pregnancy

Plan for birth

Intrapartum

Visual aids for labour and birthing positions

Spontaneous onset of labour

Care in labour

Vaginal examination

Coping strategies for labour

Complementary therapies

Second stage of labour: the birth

Breech birth

Fetal monitoring

Intermittent auscultation (IA)

Continuous electronic fetal monitoring (CEFM)

The third stage of labour

Examination of the placenta

PART 3 AFTER THE BIRTH

Post birth: mother and baby

The neonatal heat triangle

The puerperium or postnatal period

The first 24 hours after birth

The first 2–7 days

From day 8 to 6–8 weeks

Infant feeding

Initiation of breastfeeding

Continued successful breastfeeding

Perinatal mental health

The universal antenatal screening pathway

PART 4 COMPLICATIONS IN PREGNANCY

Hypertensive disorders

Eclampsia

Maternal collapse

Diabetes

Pharmacological methods of pain relief in labour

PART 5 BIRTH EMERGENCIES

Complex intrapartum care

Malpresentations and malpositions

Delay in the first stage of labour

Induction of labour

Prostaglandins

Preterm rupture of membranes

Prelabour rupture of membranes at term

Instrumental delivery and caesarean section

Cord prolapse

Shoulder dystocia

Management of post-partum haemorrhage

Episiotomy and perineal suturing

How to perform an episiotomy

Perineal suturing

Female genital mutilation

Recognition of the seriously ill woman

The Maternity Early Obstetric Warning Score (MEOWS) chart

Maternal and neonatal sepsis

Acute fatty liver in pregnancy

Obstetric cholestasis

Neonatal resuscitation

Neonatal jaundice

Fetal physiology in relation to jaundice

Clinical signs of jaundice

Jaundice management

APPENDICES

Appendix 1 Commonly used abbreviations

Appendix 2 Normal bood measurements

Appendix 3 Useful websites

References

Cathy Ashwin, PhD. MSc. PGCHE. RM. RN., Principal Editor MIDIRS, Honorary Asst. Prof. University of Nottingham, UK and Michelle Anderson, BSc (Hons) PSY. BSc. RM., Practice Development Midwife, Buckinghamshire Healthcare NHS Trust, UK