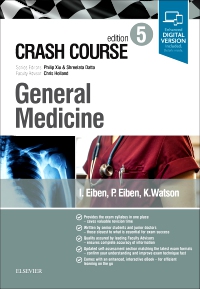 Publication Date:
01-04-2019
Crash Course General Medicine, 5th Edition
Paperback
Publication Date:
01-04-2019
Chapter 1. History Taking and Communication

Chapter 2. Clinical Examination

Chapter 3. Writing in the medical notes

Section 1 Clinical Presentations

Chapter 4. Chest pain

Chapter 5. Shortness of breath

Chapter 6. Cough and haemoptysis

Chapter 7. Palpitations

Chapter 8. Pyrexia of unknown origin

Chapter 9. Abdominal pain

Chapter 10. Heartburn and Indigestion

Chapter 11. Gastrointestinal bleed

Chapter 12. Change in bowel habit

Chapter 13. Weight Loss

Chapter 14. Jaundice

Chapter 15. Urinary Symptoms and Haematuria

Chapter 16. Headache and facial pain

Chapter 17. Goitre

Chapter 18. Loss of Consciousness

Chapter 19. Confusion and delirium

Chapter 20. Stroke and TIA

Chapter 21. Lumps

Chapter 22. Focal neurological deficits

Chapter 23. Dizziness and Vertigo

Chapter 24. Back pain and joint pain

Chapter 25. Skin lesions and rash

Chapter 26. Excessive bruising and bleeding

Section 2 Diagnoses

Chapter 27. Cardiovascular System

Chapter 28. Respiratory System

Chapter 29. Gastrointestinal and hepatobiliary systems

Chapter 30. Renal, Genitourinary and Sexual Health Medicine

Chapter 31. Fluid balance and Electrolyte disturbances

Chapter 32. Nervous System

Chapter 33. Metabolic and endocrine systems

Chapter 34. Musculoskeletal system

Chapter 35. Skin

Chapter 36. Haematological disorders

Chapter 37. Infectious diseases

Chapter 38. Drug Overdose and abuse

E-only Chapter Clinical Cases

Inez Eiben, MBBS, BSc, MRCS, Clinical Fellow in Plastic Surgery, Guy's and St. Thomas' NHS Foundation Trust, London, UK. and Paola Eiben, MBBS, BSc, MRCP, Clinical Fellow in Critical Care Medicine, King's College Hospital NHS Foundation Trust, London, UK.