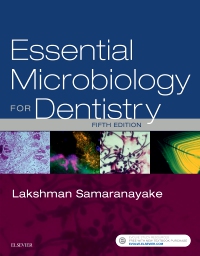 Publication Date:
07-09-2018
Essential Microbiology for Dentistry, 5th Edition
Paperback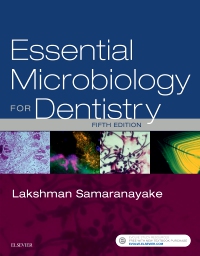 Publication Date:
07-09-2018
The latest edition of this essential textbook continues to support a new generation of dental students in their understanding of microbiom and oral microbiota, basic immunology, oral and systemic infections and cross-infection control.
Fully updated throughout with the latest developments in oral microbiology, microbiomics, disease prevention and control, Essential Microbiology for Dentistry will be essential for all undergraduates studying dentistry as well as anyone undertaking postgraduate training.
Friendly, accessible writing style helps readers engage with key information

Helpful self-assessment – in the style of both dental school and RCS exams –enables students to monitor their progress

Evidenced-based throughout to help facilitate safe clinical practice

Ample use of artwork helps explain complex structures, physiological processes and the effect of drug intervention

Helpful use of italics for clinically relevant facts and emboldened key words to highlight important information

Presents the latest national and international guidelines

'Key Fact' boxes at the end of each chapter help summarize core information

Contains a comprehensive glossary and abbreviations list

Expanded to meet the higher-level of understanding and application of knowledge required of students today

Provides a fuller discussion of the oral microbiome and the microbiota ; new microbial identification technology; antibiotic steweardship;, ; endodontic infections; implant-related infections; plaque biofilms and the systemic disease axis and the current guidelines on antimicrobial prophylaxis

Contains new photographic images – many previously unpublished

Provides enhanced discussions of newer molecular based methods of diagnosis

Explores the latest research in dental plaque biofilm functionality and metabolism, and the mechanisms of enhanced resistance caused by biofilms

Now comes with a helpful ONLINE RESOURCE containing a wide range of MCQS to help students monitor their progress!

1. Why study microbiology?

PART 1: GENERAL MICROBIOLOGY

2. Bacterial structure and taxonomy

3. Bacterial physiology and genetics

4. Viruses and prions

5. Pathogenesis of microbial disease

6. Diagnostic microbiology and laboratory methods

7. Antimicrobial chemotherapy

PART 2: BASIC IMMUNOLOGY

8. The immune system and the oral cavity

9. The immune response

10. Immunity and infection

PART 3: MICROBES OF RELEVANCE TO DENTISTRY

11. Streptococci, staphylococci and micrococci

12. Lactobacilli, corynebacteria and propionibacteria

13. Actinomycetes, clostridia and Bacillus species

14. Neisseriaceae, Veillonella, parvobacteria and Capnocytophaga

15. Enterobacteria

16. Vibrios, campylobacters and Wolinella

17. Bacteroides, Tannerella, Porphyromonas and Prevotella

18. Fusobacteria, Leptotrichia and spirochaetes

19. Mycobacteria and legionellae

20. Chlamydiae, rickettsiae and mycoplasmas

21. Viruses of relevance to dentistry

22. Fungi of relevance to dentistry

PART 4: INFECTIONS OF RELEVANCE TO DENTISTRY

23. Infections of the respiratory tract

24. Infections of the cardiovascular system

25. Infections of the central nervous and locomotor systems

26. Infections of the gastrointestinal tract

27. Infections of the genitourinary tract

28. Skin and wound infections

29. Viral hepatitis

30. Human immunodeficiency virus infection, AIDS and infections in compromised patients

PART 5: ORAL MICROBIOLOGY

31. Oral microbiome and the oral ecosystem

32. Microbiology of dental caries

33. Microbiology of periodontal disease

34. Dentoalveolar and endodontic infections

35. Oral mucosal and salivary gland infections

PART 6: CROSS INFECTION AND CONTROL

36. Principles of infection control

37. Infection control procedures in dentistry: personal protection, sharps injuries protocol, and immunization

38. Infection control procedures in dentistry: sterilization, disinfection and antisepsis

Glossary of terms and abbreviations

Lakshman Samaranayake, DSc DDS FRCPath FDSRCS(Edin) FRACDS FDSRCPS, Professor of Oral Microbiomics and Infection, School of Dentistry, University of Queensland, Australia; Professor Emeritus, University of Hong Kong; Professor – King James IV, Royal College of Surgeons of Edinburgh (2013).