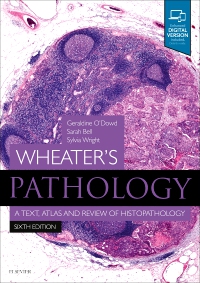 Imprint:
Churchill Livingstone
Wheater's Pathology: A Text, Atlas and Review of Histopathology, 6th Edition
Paperback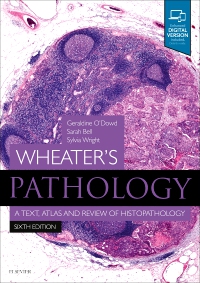 Imprint:
Churchill Livingstone
This concise introduction to pathology covers basic pathological mechanisms and offers a detailed review of systems pathology, making it a complete, effective review for today's readers. Hundreds of high-quality images—many new to this edition—illustrate common entities, and associated captions provide key pathological points. Reader-friendly text clarifies basic and complex information, helping you understand challenging concepts more easily. Wheater's Pathology is an excellent companion resource for users of Wheater's Functional Histology, 6th Edition, offering a comparison of normal histology with the pathological changes in disease.
BASIC PATHOLOGICAL PROCESSES

1. Introduction to pathology

2. Cellular responses to injury

3. Acute inflammation, healing and repair

4. Chronic inflammation

5. Infections of histological importance

6. Disorders of growth

7. Dysplasia and neoplasia

8. Atherosclerosis

9. Thrombosis and embolism

10. Infarction

BASIC SYSTEMS PATHOLOGY

11. Cardiovascular system

12. Respiratory system

13. Gastrointestinal system

14. Liver and pancreaticobiliary system

15. Urinary system

16. Lymphoid and haematopoietic systems

17. Female reproductive system

18. Breast

19. Male reproductive system

20. Endocrine system

21. Skin

22. Bone and soft tissues

23. Nervous system

Appendix 1 – Notes on commonly used staining methods

Appendix 2 – Glossary of pathological terms

Appendix 3 – Bonus E-Book Images

Geraldine O'Dowd, BSc (Hons), MBChB (Hons), FRCPath, Consultant Diagnostic Pathologist, Lanarkshire NHS Board, Honorary Clinical Senior Lecturer, University of Glasgow, Glasgow, Scotland, Sarah Bell, BSc Med Sci(Hons), MBChB(Hons), DipFMS, FRCPath, Consultant Pathologist, Department of Pathology, Queen Elizabeth University Hospital, Glasgow, UK and Sylvia Wright, BSc(Hons), MBChB(Hons), FRCPath, DipFMS, PG Cert Mol Path, Consultant Pathologist, Department of Pathology, Queen Elizabeth University Hospital, Glasgow, UK