A-Z Midwifery Elsevier eBook on VitalSource Retail Access Card
Elsevier eBook on VitalSource - Access Card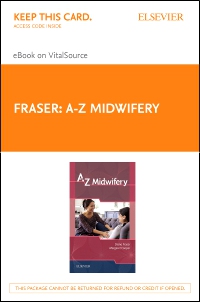 Free Shipping!
This item has low stock levels and may be back-ordered. We'll let you know if it is back-ordered, and you will not be charged until the item ships.
Well illustrated with over 170 entries, together with a helpful array of figures, tables and pull-out boxes, this helpful guide includes a wealth of information arranged in a useful A-Z format. Published in conjunction with The Practising Midwife, this publication will be ideal for all midwives – whether qualified or in training – and all other health care professionals working in the maternity environment.
Access to this product, which may be at the discretion of your institution, is up to 3 years of online and perpetual offline access. Elsevier reserves the right to restrict or remove access due to changes in product portfolio or other market conditions.
Helpful single entry style enables rapid access to essential information

Clear illustration programme aids understanding of anatomical structures and difficult concepts

Contains useful Further Reading boxes to direct additional study

Over 170 entries provide key coverage of a variety of topics ranging from antenatal screening and clinical procedures, including foetal monitoring, to pain relief, the management of psychiatric disorders, medical emergencies and public health

A

ABO incompatibility

AIDS

Alcohol consumption

Anaphylaxis

Anaphylactic syndrome of pregnancy

Anaemia

Antenatal Care

Antenatal Examination

Antenatal Screening

Antepartum Haemorrhage

Anticoagulation Therapy

Anxiety

Apgar Score

Arrhythmias, cardiac

B

Bandl's Ring

Bishop's Score

Blood Pressure

Body Mass Index (BMI)

Booking Interview

Bradycardia

Breastfeeding

Breastmilk

Breech Presentation

Burns Marshall Method

C

Caesarean Section

Cardiac disease in pregnancy

Cardiotocography (CTG)

Chorioamnionitis

Coombs' Test

Conjoined twins

Constipation

D

Depression

Disseminated Intravascular Coagulation (DIC)

Domestic Abuse

Dystocia

E

Eclampsia

Epidural

Entonox

Episiotomy

Ectopic pregnancy

Erythema Toxicum

External Cephalic Version (ECV)

F

Female Genital Mutilation

Ferguson Reflex

Fetal Alcohol Syndrome (FAS)

Fetal Blood Sampling (FBS)

Fontanelles

Forceps delivery

Fundal Height

G

German Measles

Gestational Diabetes

Group B Streptococcus

H

Haemolytic disease of the newborn

Haemorrhage

Healthcare associated infections

Haemorrhagic disease of the newborn

Heart disease

HELLP Syndrome

Hepatitis

Herpes

HIV

Hyperemesis gravidarum

Hyperglycaemia

Hyperthermia

Hypoglycaemia

Hypothermia

Hypoxia

I

Induction of Labour

Initial antenatal assessment

Infertility

Influenza/Influenza vaccination

Instrumental Delivery - See Operative vaginal delivery; Forceps; Ventouse method

Intrauterine Death

Intrauterine Growth Restriction (IUGR)

J

Jaundice

K

Karyotyping

Kernicterus (bilirubin toxicity)

Ketoacidosis

Ketonuria

Kidney disease

Kleihauer Test

Klinefelter syndrome

L

Laboratory results

Labour

Lactation

Løvset manoeuvre

M

Mastitis

Mauriceau-Smellie-Veit manoeuvre

McRoberts manoeuvre

Meconium

Membrane rupture

Multiple pregnancy

N

Nausea

Needlestick/Sharps Injury

Neonatal intensive care unit (NICU)

Neonatal infections

Neonatal specialist care

Neonatal screening

Neural tube defects

Neural tube defect screening

Nosocomial infections

Nuchal translucency

Nipples, anatomical variation

Nipples, sore

O

Obesity

Obstetric Cholestasis

Obstructed labour

Occipitoposterior positions

Oedema

Oligohydramnios

Ophthalmia neonatorum

Operative vaginal delivery

Opiate drugs

Oxytocin

P

Pain

Pain in labour

Pain control

Pelvic floor

Perinatal mental health

Perineum

Phototherapy

Placenta

Placenta praevia

Postnatal Care

Postnatal depression

Postpartum haemorrhage

Pre-eclampsia

Prematurity/Preterm birth

Prostaglandins

Puerperal psychosis

Pyrexia

Q

Quadruplets

Quickening

R

Resuscitation of the newborn

Rhesus D incompatibility

Rubella

Rubin's manoeuvre

S

Sepsis

Sexually transmitted infections

Shock

Shoulder Dystocia

Stillbirth

Symphysiotomy

T

Tachycardia

TENS

Toxoplasmosis

Twins

U

Umbilical Cord

Urinary tract infections in newborns

Uterus

Uterus, Acute inversion

V

Vaginal birth after caesarean (VBAC)

Vaginal Examination

Vaginal seeding

Valsalva manoeuvre

Varicella zoster

Ventouse method see Operative Delivery

Vitamin K deficiency bleeding (VKDB)

W

Waterbirth

Weight gain in pregnancy

Wharton's jelly

Woods' manoeuvre

Z

Zavanelli manoeuvre

Zika virus

Diane M. Fraser, PhD, MPHil, BEd, MTD, RM, RGN, Professor of Midwifery and Head of Academic Division of Midwifery, Faculty of Medicine and Health Sciences, University of Notttingham, Queen's Medical Centre, Nottingham, UK and Maggie A. Cooper, BA, RGN, RM, MTD, Pre-Registration Midwifery Programme Director, Academic Divison of Midwifery, Faculty of Medical and Health Science, University of Nottingham, Queen's Medical Centre, Nottingham, UK