Nursing Essentials: Drugs Elsevier eBook on VitalSource
,
Elsevier eBook on VitalSource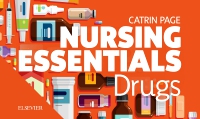 Or $0.00 with a valid access code
Are you a nurse dealing with drug administration? Do you prescribe drugs?
Whether you are a newly qualified nurse or a student on placement, this book makes understanding drugs simple.
Reduced to the essentials, clearly arranged with tables and schematics, each page concisely provides the required knowledge.
Key Features:
Pocket sized and portable – perfect for taking with you on placements, on to the ward, or in your bag for a quick refresher whilst at work
Spiral bound for ease of use and clearly laid out tables
Indications, contra-indications and side effects of the frequently used drugs within the UK
Organised by body system, and then by symptom for easy navigation
Pocket sized and portable – perfect for taking with you on placements, on to the ward, or in your bag for a quick refresher whilst at work

Spiral bound for ease of use and clearly laid out tables

Indications, contra-indications and side effects of the frequently used drugs within the UK

Organised by body system, and then by symptom for easy navigation

1 Cardiovascular system
Antiarrhythmic drugs
Cardiac glycosides
Calcium channel blockers
β-blockers
Antihypertensives
2 Blood/coagulation system
Anticoagulants
Antiplatelet drugs
Lipid-lowering agents
3 Hormonal system
Oral antidiabetics
Insulins
Thyroid hormones
Iodized salts
4 Respiratory system
Antitussive agents
Expectorants
5 Renal/urinary system
Diuretics
6 Gastrointestinal system
Antiemetic agents
Antiulcerants
Antidiarrhoeal agents
Laxatives
Antispasmodic (spasmolytic) agents
7 Immune system
Antibiotics
Antiviral agents
Antimycotic (antifungal) agents
Antiallergic agents
8 Central nervous system
Analgesics
Hypnotic agents
Antidepressants
Parkinson's disease
Anxiolytic agents
Neuroleptic agents

Catrin Page, BSc, MB ChB, Doctor, General Medicine,UK