Ross & Wilson Self-Assessment in Anatomy and Physiology in Health and Illness Elsevier eBook on VitalSource
,
Elsevier eBook on VitalSource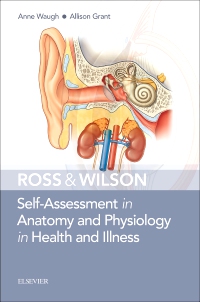 Or $0.00 with a valid access code
This handy self-assessment paperback contains over 500 multiple-choice-questions to help readers evaluate their understanding of introductory level human biology. Fully indexed, with helpful explanations given throughout the answer section, the book will be ideal for students of nursing and allied health professions, biomedical and paramedical science, operating department practice, and complementary therapy and massage therapy.
Duration for access to this product, which may be at the discretion of your institution, is up to 84 months. Elsevier reserves the right to restrict or remove access due to changes in product portfolio or other market conditions.
Over 500 MCQs support revision and learning
Ideal for individual use or in an informal group setting
Perfect prior to exams and/or for use during 'placement breaks' or 'on the move'!

Chapter 1 - Anatomy and organisation of the body

Chapter 2 - Physiological chemistry and processes

Chapter 3 - Cells and tissues

Chapter 4 - The blood

Chapter 5 - The cardiovascular system

Chapter 6 - The lymphatic system

Chapter 7 - The nervous system

Chapter 8 - The special senses

Chapter 9 - The endocrine system

Chapter 10 - The respiratory system

Chapter 11 - Introduction to nutrition

Chapter 12 - The digestive system

Chapter 13 - The urinary system

Chapter 14 - The skin

Chapter 15 - Introduction to immunity

Chapter 16 - The musculoskeletal system

Chapter 17 - Genetics

Chapter 18 - The reproductive system

Anne Waugh, BSc(Hons) MSc CertEd SRN RNT PFHEA, Former Senior Teaching Fellow and Senior Lecturer, School of Health and Social Care, Edinburgh Napier University, Edinburgh, UK and Allison Grant, BSc PhD FHEA, Lecturer, Department of Health and Life Sciences, Glasgow Caledonian University, Glasgow, UK