A Nurse's Survival Guide to the Ward - Updated Edition, 3rd Edition
Paperback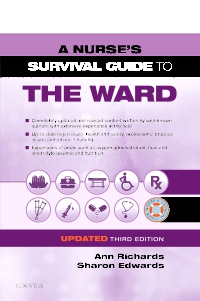 Free Shipping!
In Stock
This item has low stock levels and may be back-ordered. We'll let you know if it is back-ordered, and you will not be charged until the item ships.
Further to the success of the previous editions, A Nurse's Survival Guide to the Ward continues to be the indispensable guide to all the procedures and problems faced by nurses and healthcare professionals every day.
Whether you are a clinical practicing student or a qualified nurse, this book is the perfect straightforward reference for every doubt you might have about emergency situations, as well as assessments, clinical procedures and much more.
What will you find in this updated edition:

Completely updated and revised content written by well-known authors with extensive experience in the field;

Up-to-date legal issues, health and safety, professional practice issues and ethics in nursing;

Expansions of areas such as oxygen administration, fluid and electrolyte balance and nutrition

Completely updated and revised content written by well-known authors with extensive experience in the field;

Up-to-date legal issues, health and safety, professional practice issues and ethics in nursing;

Expansions of areas such as oxygen administration, fluid and electrolyte balance and nutrition

1 Your job and its organization

1.1 Organizing your work

1.2 Emergency situations

2 Principles of adult nursing

2.1 Legal issues

2.2 Health and safety

2.3 Professional practice issues

2.4 Ethics in nursing

3 Identification of patient problems

3.1 Holistic approaches to care

3.2 Assessment

3.3 Observations and measurements

3.4 Procedures and investigations

3.5 Nursing care issues

4 Fundamental procedures

4.1 General principles

4.2 Psychological issues

4.3 Cultural issues

4.4 Infection and its control

4.5 Essential interventions

5 A systems approach

5.1 The cardiovascular system

5.2 The respiratory system

5.3 The blood

5.4 The gastrointestinal system

5.5 The renal system

5.6 The nervous system

5.7 The endocrine system

5.8 Diseases of the bones and joints

5.9 The immune system

5.10 Cancer

5.11 Surgery

6 Pharmacology

6.1 Drugs and the law

6.2 Medicines management

6.3 Nurse prescribing

6.4 Pharmacology in practice

6.5 Classification of drugs

6.6 Poisoning

References

Further Reading

Appendix 1 Units of measurement

Appendix 2 Normal values

Appendix 3 Drug measurement and calculations

Glossary

Ann Richards, BA(Hons), MSc DipN(Lon), RGN,RNT, Associate Lecturer, The Open University, UK and Sharon L. Edwards, EdD SFHEA NTF MSc PGCEA DipN(Lon) RN, Senior Lecturer, School of Nursing and Allied Health, Buckinghamshire New University, Uxbridge, UK