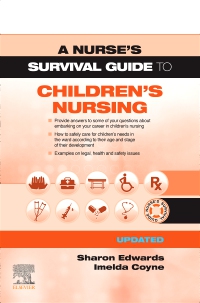 Publication Date:
08-20-2019
A Survival Guide to Children's Nursing - Updated Edition Elsevier eBook on VitalSource, 1st Edition
Elsevier eBook on VitalSource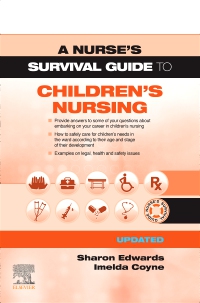 Publication Date:
08-20-2019
Or $0.00 with a valid access code
Are you working as a children's nurse or doing a placement on a children's ward? Are you studying to become a great professional involved in nursing children and young people? This user friendly, easy to carry textbook is a practical and evidence-based guide which provides those in the early stages of their careers with clinical information and insights.
This book will help you to:
Gather all the information you need to work with patients, in a concise and structure way;

Obtain the knowledge required and clinical skills needed on a wide range of conditions;

Have an excellent starting point and great revision aid to refer to when in doubt;
What will you find in this UPDATED edition:
Answers to some of your questions about embarking on your career into children's nursing;

How to satisfy children's requirements and needs in the ward according to their age and stage of their development;

Examples on legal, health and safety issues;

Completely updated and revised content written by authors with extensive nursing experience in the field.
Part of the A Nurse's Survival Guide series
What will you find in this UPDATED edition:

Answers to some of your questions about embarking on your career into children's nursing;

How to safely care for children's needs in the ward according to their age and stage of their development;

Examples on legal, health and safety issues;

Completely updated and revised content written by authors with extensive nursing experience in the field.

Part of the A Nurse's Survival Guide series

1 General principles of children's nursing

1.1: Introduction

1.2: Health and Safety

1.3: Emergency care of a child

1.4: Life threatening complications

2 Assessment and investigations of a child

2.1: Paediatric scoring systems

2.2: Assessment of a child

2.3: Haemodynamic monitoring of a child

2.4: Diagnostic procedures

3 Children's nursing interventions

3.1: General interventions

3.2: Specific interventions

3.3: Caring for a child in a variety of situations

3.4: Caring for a child in a variety of settings

4 Common conditions in children and reasons for admission

4.1: General condition in children: a systems approach

4.2: Other conditions observed in children

4.3: Mental health conditions in children

5 Psychological and ethical care

5.1: Professional and practice issues

5.2: Psychosocial issues

5.3: Palliative care of a child

6 Drug administration

6.1: General aspects

6.2: Pharmacokinetics and pharmacodynamics

6.3: Classification of drugs used in children

6.4: Medication management

References

Appendix 1 Normal vital signs

Appendix 2 Units of measurement

Appendix 3 Drug measurement and calculations

Glossary

Index

Sharon L. Edwards, EdD SFHEA NTF MSc PGCEA DipN(Lon) RN, Senior Lecturer, School of Nursing and Allied Health, Buckinghamshire New University, Uxbridge, UK and Imelda Coyne, BSc(Hons) MA PhD DipN RSCN RGN RNT FEANS FTCD, Professor and Co-Director of Trinity Research in Childhood Centre, School of Nursing and Midwifery, Trinity College Dublin, Ireland