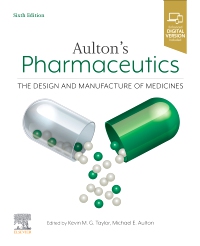 Publication Date:
07-26-2021
Aulton's Pharmaceutics, 6th Edition
Paperback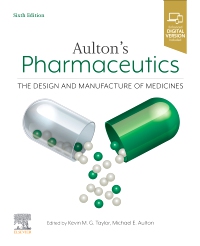 Publication Date:
07-26-2021
Free Shipping!
In Stock
This item has low stock levels and may be back-ordered. We'll let you know if it is back-ordered, and you will not be charged until the item ships.
The essential pharmaceutics textbook
One of the world's best-known texts on pharmaceutics, Aulton's Pharmaceutics offers a complete course in one book for students in all years of undergraduate pharmacy and pharmaceutical sciences degrees.
Thoroughly revised, updated and extended by experts in their fields and edited by Professors Kevin Taylor and Michael Aulton, this new edition includes the science of formulation, pharmaceutical manufacturing and drug delivery.
All aspects of pharmaceutics are covered in a clear and readily accessible way and extensively illustrated throughout, providing an essential companion to the entire pharmaceutics curriculum from day one until the end of the course.
Fully updated throughout, with the addition of new chapters, to reflect advances in formulation and drug delivery science, pharmaceutical manufacturing and medicines regulation

Designed and written for newcomers to the design and manufacture of dosage forms

Relevant pharmaceutical science covered throughout

Includes the science of formulation and drug delivery

Reflects current practices and future applications of formulation and drug delivery science to small drug molecules, biotechnology products and nanomedicines

Key points boxes throughout

Over 400 online multiple choice questions
Preface ....................................................................... vii
Contributors ............................................................. ix
Acknowledgements .................................................. xiii
What is 'pharmaceutics'?......................................... xv
Kevin M.G. Taylor and Michael E. Aulton
1. Design of dosage forms.................................. 1
Peter York
2. Dissolution and solubility ............................. 13
Michael E. Aulton
3. Properties of solutions ................................... 30
Michael E. Aulton
4. Surfaces and interfaces ................................... 39
Graham Buckton
5. Disperse systems.............................................. 50
David Attwood
6. Rheology........................................................... 81
Christopher Marriott
7. Kinetics ............................................................. 101
Gareth R. Williams and John P. Malkinson
8. Solid-state properties .................................... 114
Graham Buckton
9. Particle size analysis ..................................... 126
Kevin M.G. Taylor
10. Particle size reduction and size
separation....................................................... 143
Michael E. Aulton
11. Mixing............................................................. 156
Andrew M. Twitchell
12. Powder flow................................................... 172
Michael E. Aulton
13. Fundamentals of microbiology................... 184
Lara-Marie Barnes and Geoffrey W. Hanlon
14. Pharmaceutical applications of
microbiological techniques.......................... 208
Lara-Marie Barnes and Norman A. Hodges
15. Action of physical and chemical agents
on microorganisms....................................... 229
Lara-Marie Barnes, Geoffrey W. Hanlon and
Norman A. Hodges
16. Principles of sterilization ............................. 247
Susannah E. Walsh, Katie Laird and Jean-Yves
Maillard
17. Sterilization in practice ................................ 257
Jean-Yves Maillard, Katie Laird and Susannah E.
Walsh
18. Introduction to biopharmaceutics.............. 275
Marianne Ashford and Kevin M.G. Taylor
19. Gastrointestinal tract e physiology and
drug absorption............................................. 279
Marianne Ashford and Kevin M.G. Taylor
20. Bioavailability e physicochemical,
dosage form and formulation factors ........ 297
Marianne Ashford, Kevin M.G. Taylor and
Hala M. Fadda
21. Assessment of biopharmaceutical
properties ....................................................... 320
Marianne Ashford and Kevin M.G. Taylor
22. Dosage regimens ........................................... 343
Soraya Dhillon and Nkiruka Umaru
23. Pharmaceutical preformulation .................. 360
Simon Gaisford
24. Solutions ........................................................ 386
Sudaxshina Murdan
25. Clarification ................................................... 397
Andrew M. Twitchell
26. Suspensions ................................................... 407
Susan A. Barker
27. Emulsions and creams ................................. 424
Gillian M. Eccleston
28. Ointments, pastes, gels, cutaneous
patches and topical sprays........................... 453
Majella E. Lane
29. Powders, granules and granulation ............ 463
Michael E. Aulton
30. Drying............................................................. 483
Michael E. Aulton and Satyanarayana Somavarapu
31. Tablets and compaction............................... 501
Göran Alderborn and Göran Frenning
32. Modified-release oral drug delivery ............ 542
Emma L. McConnell, Christine M. Madla and
Abdul W. Basit
33. Coating of tablets and multiparticulates ... 558
Stuart C. Porter
34. Continuous manufacturing of tablets ........ 574
Aktham Aburub and Hala M. Fadda
35. Hard capsules ................................................ 586
Brian E. Jones
36. Soft capsules .................................................. 599
Stephen Tindal
37. Dissolution testing of solid dosage
forms............................................................... 612
Ana Cristina Freire, Francesca K.H. Gavins and
Abdul W. Basit
38. Parenteral drug delivery ............................... 626
Robert Lowe
39. Pulmonary drug delivery ............................. 641
Kevin M.G. Taylor
40. Nasal drug delivery....................................... 658
Gary P. Martin and Alison B. Lansley
41. Ocular drug delivery..................................... 677
Hala Fadda, Ashkan Khalili, Peng Tee Khaw and
Steve Brocchini
42. Otic drug delivery ......................................... 701
Xu Liu, Hugh Smyth and Feng Zhang
43. Topical and transdermal drug delivery ...... 713
Adrian C. Williams
44. Rectal and vaginal drug delivery................. 735
Kalliopi Dodou
45. Preparation and delivery of
biopharmaceuticals....................................... 752
Ijeoma F. Uchegbu and Andreas G. Schätzlein
46. Pharmaceutical nanotechnology and
nanomedicines .............................................. 768
Yvonne Perrie
47. Radiopharmaceuticals................................... 789
Neil Hartman and Margaret Cooper
48. The formulation and manufacture of
plant medicines............................................. 805
G. Brian Lockwood
49. Design and administration of medicines
for paediatric and geriatric patients............ 818
Catherine Tuleu, Mine Orlu and David Wright
50. Packaging ....................................................... 833
Sudaxshina Murdan
51. Chemical stability in dosage forms............ 848
Andrew R. Barnes and Mark Santillo
52. Microbial contamination, spoilage and
preservation of medicines............................ 860
Norman A. Hodges and Lara-Marie Barnes
53. Product stability and stability testing......... 871
Paul Marshall
54. Pharmaceutical quality: the application
of pharmaceutics in medicines
regulation ....................................................... 894
Kevin M.G. Taylor, Majella E. Lane and
Khalid A. Sheikh
Self-assessment questions
Sudaxshina Murdan
Please check your eBook at https://studen

Kevin M.G. Taylor, BPharm PhD FRPharmS, Professor of Clinical Pharmaceutics, UCL School of Pharmacy, London, UK and Michael E. Aulton, BPharm, PhD, FAAPS, FSP, FRPharmS, Emeritus Professor, De Montfort University, Leicester, UK