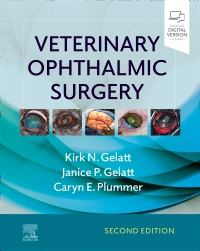 Publication Date:
11-01-2021
Veterinary Ophthalmic Surgery Elsevier eBook on VitalSource, 2nd Edition
Elsevier eBook on VitalSource
Publication Date:
11-01-2021
Or $0.00 with a valid access code
Master animal eye surgery techniques with this comprehensive, step-by-step guide! Veterinary Ophthalmic Surgery, 2nd Edition is the resource of choice for all types of ophthalmic surgical procedures across all animal species. Not only does this book include illustrated guidelines and step-by-step procedures, but it also covers surgical instrumentation, the operating room, and the use of anesthesia. Each aspect of ophthalmic surgery is described, including pre-, intra- and post-operative details. Internationally recognized editors Galatt and Plumber are joined by a team of expert contributors in providing authoritative solutions to key issues in animal ophthalmic surgery. Whatever your specialty, this is the only eye surgery book you will ever need!
Comprehensive coverage of extraocular and intraocular surgical procedures includes all of the different types of procedures performed by veterinarians and veterinary ophthalmologists.
More than 1,050 high-quality color photographs and illustrations allow the practitioner to follow techniques step by step.
Pictorial reference includes multiple presentations of many ophthalmic diseases to show the various ways the condition may appear.
Comprehensive guidelines in each surgery chapter include anatomy, indications for surgery or other medical therapies, the available surgical procedures, postoperative management, success rates, and postoperative complications, followed by any modifications for large animals and special species.
Enhanced eBook included with every new print purchase provides users with the complete, fully searchable text plus a superb collection of online videos demonstrating actual ophthalmic surgical procedures.

NEW! Chapters on microsurgery, equine, ruminants, and pet and zoo animals
NEW! Approximately 50 additional medical illustrations
NEW! Surgical techniques and procedures
NEW! Updated instrumentation

SECTION I: ESSENTIALS

CHAPTER 1: SURGICAL INSTRUMENTATION.

CHAPTER 2: THE OPERATING ROOM

CHAPTER 3: ANESTHESIA FOR OPHTHALMIC SURGERY

CHAPTER 4: BASICS OF MICROSURGERY: NEW CHAPTER.

SECTION II: SMALL ANIMAL (DOG & CAT) OPHTHALMIC SURGERY

CHAPTER 5: SURGERY OF THE ORBIT:

CHAPTER 6: SURGERY OF THE EYELIDS

CHAPTER 7: SURGERY OF NASOLACRIMAL AND TEAR SYSTEMS

CHAPTER 8: SURGICAL PROCEDURES FOR THE CONJUNCTVA AND THE NICTITATING MEMBRANE

CHAPTER 9: SURGERY OF THE CORNEA AND SCLERA

CHAPTER 10: SURGICAL PROCEDURES OF THE ANTERIOR CHAMBER AND ANTERIOR UVEA

CHAPTER 11: SURGICAL PROCEDURES FOR THE GLAUCOMAS

CHAPTER 12: SURGICAL PROCEDURES FOR THE LENS AND CATARACT

CHAPTER 13: VITREORETINAL SURGERY

SECTION III: OTHER SPECIES

CHAPTER 14: EQUINE OPHTHALMIC SURGERY

CHAPTER 15: RUMINANT (BOVINE, CAPRINE, AND OVINE) AND MINIATURE SWINE OPHTHALMIC SURGERY CHAPTER 16: PET & ZOO ANIMAL OPHTHALMIC SURGERY

Kirk N. Gelatt, VMD, Distinguished Professor of Comparative Ophthalmology, Department of Small Animal Clinical Sciences and the Gwathmey-Adams Laboratory for Vision Science, College of Veterinary Medicine, University of Florida, Gainesville, FL, Janice P. Gelatt, MFA, Instructor, Professional Development and Community Education, Santa Fe Community College, Gainesville, FL and Caryn Plummer, DVM, Dipl ACVO, Department of Physics and Astronomy, The University of Tennessee, 401 A.H. Nielsen Physics Building, Knoxville, TN 37996-1200, USA