Ross en Wilson Anatomie en Fysiologie in gezondheid en ziekte, 13th Edition
Paperback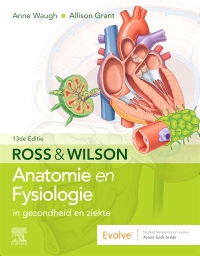 Free Shipping!
This item has low stock levels and may be back-ordered. We'll let you know if it is back-ordered, and you will not be charged until the item ships.
De nieuwste editie van 's werelds meest populaire inleiding tot de menselijke anatomie en fysiologie in gezondheid en ziekte!
De nieuwe editie van de buitengewoon succesvolle Ross & Wilson Anatomie en Fysiologie in Gezondheid en Ziekte biedt opnieuw de belangrijkste elementen van de menselijke biologie, weergegeven op een duidelijke en eenvoudige manier. Het boek is nu volledig herzien en heeft verbeterde leeronderdelen en nieuw getekende illustraties – ontwikkeld door het team van Gray's
Anatomy for Students – om het leren nog makkelijker te maken. De aanvullende onderdelen zijn:
Een nieuw, fris uiterlijk met nuttige kleurcodering en icoontjes bij afbeeldingen.

Prachtige kleurenillustraties die de anatomische structuren en fysiologische processen helpen verduidelijken.

Handige toetsen aan het einde van elk onderwerp zorgen ervoor dat studenten hun vorderingen kunnen volgen.

De zelftests aan het einde van het hoofdstuk helpen de lezer bij het begrijpen en onthouden van de tekst.

Duidelijke definities van veelgebruikte voorvoegsels, achtervoegsels en grondbegrippen, plus een verklarende woordenlijst en een bijlage met de biologische normaalwaarden.

De begeleidende website bevat animaties, een audiowoordenlijst, casestudy's en ander testmateriaal, het unieke Body Spectrum© online kleur- en zelftestprogramma en handige weblinks.
Ross & Wilson Anatomie en Fysiologie in Gezondheid en Ziekte kan worden gebruikt door studenten in de verpleging en aanverwante zorgberoepen, biomedische en paramedische wetenschappen, het praktijkonderdeel van de opleiding tot operatieassistent, in complementaire behandelingswijzen en massage therapie, maar ook door assistenten in opleiding in de gezondheidszorg. Het boek en de bijbehorende website zijn met name waardevol voor lezers die nieuw zijn in het vakgebied, voor mensen die weer gaan studeren na een periode van afwezigheid, en voor al degenen wiens eerste taal niet Engels is.
Section 1 The body and its constituents

1 Anatomy and organisation of the body

2 Physiological chemistry and processes

3 Cells and tissues

Section 2 Communication

4 The blood

5 The cardiovascular system

6 The lymphatic system

7 The nervous system

8 The special senses

9 The endocrine system

Section 3 Intake of raw materials and elimination of waste

10 The respiratory system

11 Introduction to nutrition

12 The digestive system

13 The urinary system

Section 4 Protection and survival

14 The skin

15 Resistance and immunity

16 The musculoskeletal system

17 Introduction to genetics

18 The reproductive systems

Glossary

Normal values

Bibliography

Anne Waugh, MSc CertEd SRN RNT FHEA, School of Acute and Continuing care Nursing, Napier University, Edinburgh, UK and Allison Grant, BSc PhD RGN, Department of Biological and Biomedical Sciences, Glasgow Caledonian University, Glasgow, UK