Biomechanics and Esthetic Strategies in Clinical Orthodontics
,
Hardcover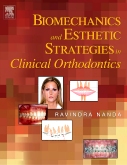 Free Shipping!
This item has low stock levels and may be back-ordered. We'll let you know if it is back-ordered, and you will not be charged until the item ships.
This text provides state-of-the-art reference on the successful application of biomechanics in clinical orthodontics. It features comprehensive guidance on basic biomechanic principles to orthodontic problem resolution by focusing on the fundamentals. Also including new, cutting edge topics, this book shows how all techniques can apply biomechanical principles to improve the force delivery, understand and prevent side effects, and achieve predictable results.
Full-color illustrations help the reader visualize and grasp key concepts.
Line drawings accompany clinical photos to clarify important information and techniques.
Chapters are organized from the most common to least common orthodontic problems, creating an easy-to-follow layout that makes the topics easy to find.
Inclusion of cutting edge topics such as skeletal anchorage, esthetic concepts, interdisciplinary treatment, biomechanical factors, biology of tooth movement, and management of orthodontic problems presents current trends in orthodontics.
Information on the latest advances in the use, selection, and properties of orthodontic wires exhibits all viable options for important decision-making.
Comprehensive coverage of diagnosis, treatment planning, and biomechanical strategies provides knowledge of how to apply specific mechanisms to specific problems.
Simplified approach makes biomechanics easy to understand and implement.
Presentation of nonextraction treatment modalities explains how to use headgear, Herbst appliances, memory alloy springs, and other methods to yield predictable results.
Solid information on treating malocclusion shows readers how simple changes in arch wire bending can greatly improve tooth movement quality.

TABLE OF CONTENTS:
1. Principles of Biomechanics
2. Biologic Mechanisms in Orthodontic Tooth Movement
3. Individualized Orthodontic Diagnosis
4. Individualized Orthodontic Treatment Planning
5. Social Psychology of Facial Appearance
6. Esthetics in Tooth Display and Smile Design
7. Managment of Deep Overbite Malocclusion
8. Management of Open Bite Malocclusion
9. Biomechanics Strategies for Nonextraction Class II Malocclusions
10. Biomechanics Basis of Extraction Space Closure
11. Clinical Practice Guidelines for Developing Class III Malocclusion
12. Treatment Strategies for Developing Class III Patients
13. Biomechanical Aspects of a Modified Protraction Headgear
14. Orthodontic Anchorage and Skeletal Implants
15. A Bioefficient Skeletal Anchorage System
16. Biomechanical Factors in Surgical Orthodontics
17. Biomechanic Strategies for Optimal Finishing
18. Interrelationship of Orthodontics with Periodontics and Restorative Dentistry

Ravindra Nanda, BDS, MDS, PhD, Professor and Head, Department of Craniofacial Sciences; Chair, Division of Orthodontics, School of Dental Medicine, University of Connecticut Health Center, Farmington, CT