Textbook of Orthodontics
,
Hardcover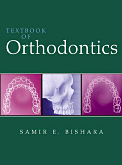 Free Shipping!
This item has low stock levels and may be back-ordered. We'll let you know if it is back-ordered, and you will not be charged until the item ships.
This is a comprehensive textbook written for the predoctoral dental student. Samir E. Bishara and the other contributors present the fundamentals of orthodontics in 30 chapters divided into six sections: Growth and Development; Diagnosis; Appliances; Treatment and Treatment Considerations; Other Aspects Related to Treatment; and Orthodontics and Adjunct Treatment. Case examples relate the concepts to clinical applications and make the text appealing and useful.
Section I: Growth and Development Overview of General Embryology and Head and Neck Development; Principles of Cleft Lip and Palate Formation;Summary of Postnatal Growth; Introduction to Growth of the Face; Development of the Dental Occlusion ; Dental Arch Development; Facial and Dental Changes in Adolescence; Etiology and Prevalence of Malocclusion Section II: Diagnosis; Orthodontic Diagnosis and Treatment Planning; Cephalometric Analysis; Iowa Longitudinal Cephalometric Standards; Tooth-Size Arch Length Analysis; An Approach to the Diagnosis of Different Malocclusions; Section III: Appliances Fixed Edgewise Orthodontic Appliances and Bonding Techniques; How Orthodontic Appliances Work; Steps in Orthodontic Treatment; Section IV: Treatment and Treatment Considerations Orthodontic Treatment in the Primary Dentition; Mixed Dentition Guidance of Occlusion: Serial Extraction Procedures; Treatment of Class I Non-Extraction Problems and Appliances; Treatment of Class II Malocclusion; Management of Class III Malocclusion in the Primary and Mixed Dentition; Orthodontic Treatment Considerations Related to Age and Severity in the Vertical and Sagittal Dimensions; Skeletal and Dental Considerations in the Transverse Dimension; Section V :Orthodontics and Adjunct Treatment; Periodontal Considerations During Orthodontic Treatment; Behavioural Considerations in Orthodontic Treatment; Root Resorptions and Tissue Changes During Orthodontic Treatment; Section VI: Review of Various Orthodontic Topics Temporomandibular Disorders and Orthodontic Treatment; Adjunctive Orthodontic Therapy in Adults; Etiology, Classification, Diagnosis and Management of Facial Asymmetries; Surgical Orthodontics

Samir E. Bishara, DDS, BDS, DOrtho, MS, Professor, Department of Orthodontics, University of Iowa, College of Dentistry, Iowa City, IA