Medical Emergencies in Dentistry
,
Paperback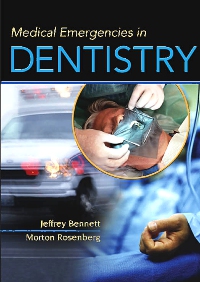 Free Shipping!
This item has low stock levels and may be back-ordered. We'll let you know if it is back-ordered, and you will not be charged until the item ships.
This new text outlines a practical framework for treating both common and uncommon emergencies in the dental office. It also promotes an understanding of the many underlying disease states that can precipitate such emergencies. A wide variety of medical emergencies, ranging from treating a child with an epileptic seizure to treating a schizophrenic patient, are discussed and illustrated with real-life case scenarios. This logical approach to diagnosis and treatment of medical emergencies presents a concise review of pathophysiology to support clinical correlations. Medical Emergencies in Dentistry provides a solid foundation in assessment, problem-based decision making, and disease that helps clinicians react quickly and decisively when time is of the essence.
Section 1: Patient Assessment. This initial section pertains to general principles and reviews basic concepts, pharmacology, equipment, and techniques. Chapter 1 reviews the basic principles of resuscitation. The next two chapters present a thorough review of special considerations in how to treat two specific populations, pediatric and geriatric patients. Section 2: Problem-Based Assessment consists of 18 chapters. They cover a wide range of topics from the common hyperventilation episode to how to manage psychiatric emergencies. Many emergencies that occur in the dental office present as a problem that the doctor will recognize. This section takes the doctor through such presentations from recognition to assessment to definitive management of the problem. The 6 chapters in Section 3, Systemic-Based Disease, discuss a wide range of conditions, from diabetes to neuromuscular disorders. This section is system based. For example, when treating a diabetic patient, it is more likely that the patient will have a complication specific to their diabetes. While the problem-based section will discuss the recognition of altered consciousness, this section will provide a more comprehensive review of specific disease processes. Section 4: The 8 chapters in Special Considerations deal with special situations. Varied topics are addressed such as child/elder abuse, the pregnant patient, and the substance abuse patient. Management of adverse drug reactions and understanding the side effects of herbal medications are also covered.

Jeffrey D. Bennett, DMD, Associate Professor, Department of Oral & Maxillofacial Surgery, School of Dental Medicine, University of Connecticut, Farmington, CT and Morton B. Rosenberg, DMD, Professor, Department of Oral and Maxillofacial Surgery, Head, Division of Anesthesia and Pain Control, Tufts University School of Dental Medicine, Boston, MA