The Complete History and Physical Exam Guide
,
Paperback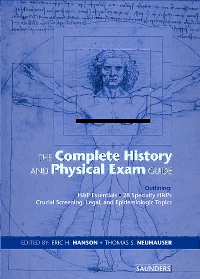 Free Shipping!
In Stock
This item has low stock levels and may be back-ordered. We'll let you know if it is back-ordered, and you will not be charged until the item ships.
This concise, portable manual offers detailed guidance on developing and refining the skills required to take an accurate patient history and conduct a thorough physical examination. 48 specialty-trained physicians cover all 28 medical specialties, enabling the reader to obtain the most conclusive diagnostic information from each patient in any clinical setting. A clear, consistent outline format with at-a-glance charts, tables and boxes makes reference quick and easy. Specific guidelines detail each step for every type of physical examination, with up to three different approaches for each body system. Sample write-ups at the beginning of each chapter provide a starting point for documentation. Readers will also find easy-to-follow information on · chartwork · diagnostic studies and interpretation of laboratory results · imaging interpretation · and common bedside procedures.
Uses an easy-to-review outline format that covers history and physical examination · chartwork
Covers history and physical examination guidelines for subspecialty areas.
Provides in-depth, ready-to-use questions that highlight all key potential health issues when taking a patient's history.
Details each step for every type of system review, with up to three different approaches for each body system.
Offers sample write-ups at the end of each chapter to provide a starting point for documentation.
Addresses additional "must-know" content including ethical and legal issues.
Includes coverage of drugs in an abbreviated outline format, and appendices with conversion and data tables.

"I. H&P Essentials
1. History and Physical Examination (H&P) Essentials (H&P)
2. Recording Laboratory Values and Diagnostic Information, and Conversion Tables (LAB)
3. Assessment and Plan (A&P) Formulation (A&P)
4. Chartwork Guidelines (CHART)
5. Presentation Guidelines (PRES)
6. Death Certification (DEATH)

II. Specialty-Focused History and Physical Examinations (Specialty H&P's)
7. Allergy and Immunology (ALLERGY)
8. Anesthesiology (ANESTH)
9. Cardiology (CARD)
10. Dermatology (DERM)
11. Emergency Medicine (Trauma Assessment) (EMERG)
12. Endocrinology (ENDO)
13. Gastroenterology (GI)
14. Gynecology (GYN)
15. Hematology (HEME)
16. Infectious Disease (ID)
17. Internal Medicine /Family Practice (IM/FP)
18. Intensive Care Unit (Adult Critical Care Medicine) (ICU)
19. Neonatology (NEO)
20. Nephrology (NEPH)
21. Neurology (NEURO)
22. Obstetrics (OB)
23. Occupational Medicine (OCC)
24. Oncology (ONC)
25. Ophthalmology (OPHTHO)
26. Orthopedics (ORTHO)
27. Otolaryngology (Head and Neck Surgery)/Ear, Nose and Throat (ENT) Surgery (OTO)
28. Pathology (PATH)
29. Pediatrics (PEDS)
30. Preventive Medicine (PREV)
31. Psychiatry (PSYCH)
32. Pulmonology (PULM)
33. Surgery (Focus on General Surgery) (SURG)
34. Urology (URO)

III. Focused History and Physical Examinations (Focused H&P's)
35. Alcohol Screening (ETOH)
36. Epidemiology (EPI)
37. Ethical Considerations (ETHICS)
Informed Consent
Advanced Directives
Do-Not-Resuscitate (DNR) Orders
38. Nutritional Status Evaluation (NUTRIT)
39. Tobacco Screening (TOB)

Contributors
Index

Eric H. Hanson, MD, MPH, Headquarters United States Air Force, Office of the Surgeon General, Directorate of Modernication, Science and Technology Division, Chief, Science and Technology and Operational Biotechnology, Bolling Air Force Base, Washington, DC and Thomas S. Neuhauser, MD, Staff Pathologist, Medical Directory of Hematology, Wilford Hall Medical Center, Lackland Air Force Base, San Antonio, TX