Medical Transcriptionist's Desk Reference
,
Spiral Bound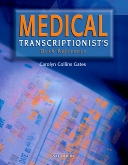 Free Shipping!
This item has low stock levels and may be back-ordered. We'll let you know if it is back-ordered, and you will not be charged until the item ships.
This highly useful reference provides essential information that makes the task of transcribing medical reports easier and more efficient. Organized by the type of problem or issue transcriptionists are likely to encounter on the job - and written by an experienced, well-known medical transcriptionist - the format of this book is designed to significantly reduce "down time" spent researching information. It follows the AAMT style guidelines and provides quick access to facts related to anatomy, general medical terminology, and various medical specialties.
Intuitive, problem-based organization presents information by type of problem or situation that transcriptionists are likely to encounter, for fast, efficient reference.
A broad scope provides just the right amount of information for answers to the most common issues that most medical transcriptionists encounter.
Authored by a well-known and respected professional, her expertise gives the reader confidence in the value, accuracy, and relevance of the material.
Written to specifically reflect the AAMT style guidelines, for a direct tie-in with the accepted national standard.
The best "first reach" book for time-saving and accuracy -it often provides the answer immediately, or otherwise directs the user to the next level search.

Chapter 1: Medical Transcription Formatting
Rules & Style
Sample Medical Reports & Letters

Chapter 2: Medical Terminology
Prefixes, Suffixes and Combining Forms
General Terms

Chapter 3: Physical Examination Terms

Chapter 4: Body Systems Word Lists

Chapter 5: Oncology
Cancer Classifications
Radiation Oncology Terms
Oncology Medications

Chapter 6: Laboratory Tests

Chapter 7: Microbiology

Chapter 8: Radiology Studies

Chapter 9: Drug List

Chapter 10: Confusing Words, Abbreviations & Eponyms
Commonly Misused Words
Commonly Used Medical Abbreviations
Medical Eponyms

Carolyn Collins Gates, CMT, Director of Medical Transcription, Lexington Medical Center, West Columbia, SC