Functional Occlusion in Restorative Dentistry and Prosthodontics
,
Hardcover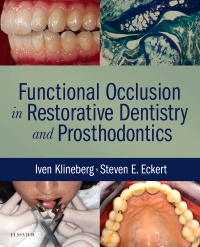 Free Shipping!
In Stock
This item has low stock levels and may be back-ordered. We'll let you know if it is back-ordered, and you will not be charged until the item ships.
Assess and manage occlusion problems with confidence! Functional Occlusion in Restorative Dentistry and Prosthodontics provides a full-color, comprehensive guide to occlusion, with coverage ranging from an explanation of biological principles to treatment planning and clinical procedures. An easy-to-understand approach advances your skills with the latest evidence-based clinical research, and reinforces knowledge with chapter synopses, key points boxes, and abundant references. To support the book's content, a companion website includes three video clips: condyle movements within the glenoid fossa, relationship between condylar translation and rotation, and movement of the condyle–disc assembly recorded by MRI. Edited by internationally renowned prosthodontics experts Iven Klineberg and Steven Eckert, this reference will help you treat occlusion conditions and TMJ disorders safely and effectively.
An easy-to-read, easy-access format presents the newest evidence-based clinical research on occlusion.
A companion website supports the book with three video clips: condyle movements within the glenoid fossa, relationship between condylar translation and rotation, and movement of the condyle–disc assembly recorded by MRI.
~Nearly 300 full-color photographs and illustrations depict occlusal conditions, principles, and treatment.
A world-renowned team of expert contributors offers practical insights gained from years of clinical research and experience.
Summary tables, key points boxes, and helpful hints and tips make it easier to assess and manage occlusal issues and TMJ problems.

Preface and Introduction
SECTION 1: BIOLOGICAL CONSIDERATIONS
1. The biological basis of a functional occlusion: the neural framework
2. Periodontal micro- and immuno-biology
3. Occlusion and health
4. Occlusion and adaptation to change – neuroplasticity and its implications for cognition
5. Jaw movement and its control
6. Anatomy and pathophysiology of the temporomandibular joint
SECTION 2: ASSESSMENT
7. Occlusal form and clinical specifics
8. Occlusal diagnostics for treatment planning
9. Articulators, transfer records and study casts
SECTION 3: ORAL IMPLANT OCCLUSION
10. Physiological considerations of oral implant function
11. Occlusion and principles of oral implant restoration
12. Implant rehabilitation and clinical management
SECTION 4: CLINICAL PRACTICE AND OCCLUSION MANAGEMENT
13. Temporomandibular joint disorders
14. Jaw muscle disorders
15. Occlusion and periodontal health
16. Occlusion and orthodontics
17. Occlusion and fixed prosthodontics
18. Occlusion and removable prosthodontics
19. Occlusion in maxillofacial prosthetics
20. Occlusal splints and management of the occlusion
21. Occlusal adjustment in occlusion management
Conclusions

Iven Klineberg, Professor, Westmead Centre of Oral Health, Australia and Steven Eckert