Crash Course Respiratory System Updated Edition: Elsevier eBook on VitalSource, 4th Edition
Elsevier eBook on VitalSource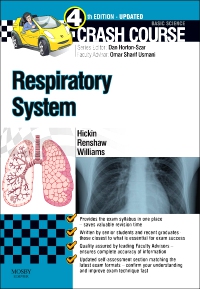 Or $0.00 with a valid access code
Crash Course – your effective everyday study companion PLUS the perfect antidote for exam stress! Save time and be assured you have all the core information you need in one place to excel on your course and achieve exam success.
A winning formula now for over 15 years, each volume has been fine-tuned and fully updated, with an improved layout tailored to make your life easier. Especially written by senior students or recent graduates – those who understand what is essential for exam success – with all information thoroughly checked and quality assured by expert Faculty Advisors, the result is a series of books which exactly meets your needs and you know you can trust.
This volume in the essential area of respiratory medicine provides a coherent journey from basic science to clinical assessment and finally respiratory pathology. The careful inclusion of cross referencing and the very latest guidelines will enable you to quickly link the key aspects of science and clinical medicine in an evidence-based manner. Whether you are revising for basic science exams or are on the wards looking for clinical information with a pathophysiological focus, this new edition is for you!
More than 170 illustrations present clinical, diagnostic and practical information in an easy-to-follow manner
Friendly and accessible approach to the subject makes learning especially easy
Written by students for students - authors who understand exam pressures
Contains 'Hints and Tips' boxes, and other useful aide-mémoires
Succinct coverage of the subject enables 'sharp focus' and efficient use of time during exam preparation
Contains a fully updated self-assessment section - ideal for honing exam skills and self-testing

Self-assessment section fully updated to reflect current exam requirements
Contains 'common exam pitfalls' as advised by faculty

Part I: Basic Medical Science. Overview of the Respiratory System; The Upper Respiratory Tract; The Lower Respiratory Tract; Ventilation and Gas Exchange; Perfusion and Gas Transport; Control of Respiratory Function; Disorders of the Lungs.

Part II: Clinical Assessment. Pharmacological and non-pharmacological interventions; Presentations of Respiratory Disease; History and Examination; Investigations and Imaging.

Part III: Self Assessment. Multiple-choice questions (MCQs); Short-answer questions (SAQs); Extended-matching questions (EMQs); Essay questions; OSCE stations; MCQ Answers; SAQ Answers; EMQ answers.

Sarah Hickin, BSc(Hons) MBBS, Core Medical Trainee Year 2, Royal Brompton and Harefield NHS Trust, London, UK., James Renshaw, BSc(Hons) MBBS, Core Trainee Year 1, South Thames Deanery, London, UK and Rachel Chapman, BSc (Hons) MBBS, F2, West Middlesex University Hospital, London