Crash Course Psychiatry Updated Edition: Elsevier eBook on VitalSource, 4th Edition
Elsevier eBook on VitalSource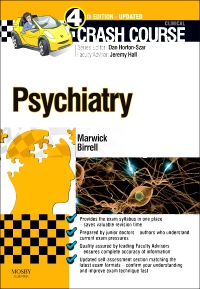 Or $0.00 with a valid access code
The (printed) 'Updated Edition' now comes with added value access to the complete, downloadable eBook version via Student Consult. Search, read and revise whilst on the move and use the interactive self-assessment to test your understanding. Crash Course - a more flexible, practical learning package than ever before.
Crash Course – your effective every day study companion PLUS the perfect antidote for exam stress! Save time and be assured you have all the core information you need in one place to excel on your course and achieve exam success.
A winning formula now for over 15 years, each series volume has been fine tuned and fully updated, with an improved layout tailored to make your life easier. Especially written by junior doctors – those who understand what is essential for exam success – with all information thoroughly checked and quality assured by expert Faculty Advisers, the result is a series of books which exactly meets your needs and you know you can trust.
Psychiatry can present a unique and sometimes daunting set of challenges to those approaching the specialty for the first time. This substantially revised fourth edition provides an accessible yet comprehensive introduction to this fascinating field. Ideal both as a revision aid and for preparation for work in A&E, the wards, clinics or GP surgeries, this book is full of practical hints and tips which will inspire confidence and to guide you towards systematic assessments, rational diagnoses and evidence based management plans.
More than 220 line artworks, tables and boxes present clinical, diagnostic and practical information in an easy-to-follow manner

Friendly and accessible approach to the subject makes learning especially easy

Written by junior doctors for students - authors who understand exam pressures

Contains 'Hints and Tips' boxes, and other useful aide-mémoires

Succinct coverage of the subject enables 'sharp focus' and efficient use of time during exam preparation

Contains a fully updated self-assessment section - ideal for honing exam skills and self-testing

Provides the exam syllabus in one place - saves valuable revision time
Written by recent graduates and specialty trainees - those closest to what is essential for exam success
Quality assured by leading Faculty Advisors - ensures complete accuracy of information
Features the ever popular 'Hints and Tips' boxes and other useful aide-mémoires - distilled wisdom from those in the know
Fully updated self-assessment section matching the latest exam formats – confirm your understanding and improve exam technique fast
Includes useful 'Learning Objectives' at the start of each chapter
Pharmacological and disease management information updated in line with current best practice guidelines.

PART I: THE PATIENT PRESENTS WITH: 1 The patient with low mood 2 The patient with elevated or irritable mood 3 The patient with suicide or self-harm intent 4 The psychotic patient 5 The patient with anxiety, fear or avoidance 6 The patient with a reaction to a stressful event or bereavement 7 The patient with obsessions and compulsions 8 The patient with medically unexplained symptoms 9 The patient with impairment of consciousness, memory or cognition 10 The patient with alcohol or substance use problems 11 The patient with personality and impulse-control problems 12 The patient with eating or weight problems

PART II: DISEASES AND DISORDERS 13 The mood (affective) disorders 14 The psychotic disorders: schizophrenia 15 The anxiety and somatoform disorders 16 Dementia and delirium 17 Alcohol and substance-related disorders 18 The personality disorders 19 Eating disorders 20 Disorders related to menstruation, pregnancy and the puerperium 21 The sleep disorders 22 The psychosexual disorders 23 Child and adolescent psychiatry 24 Old-age psychiatry 25 Forensic psychiatry

PART III: HISTORY, EXAMINATION AND COMMON INVESTIGATIONS 26 Psychiatric assessment and diagnosis 27 Pharmacological therapy and ECT 28 Psychological therapy 29 Mental health legislation 30 Mental health service provision

PART 1V: SELF-ASSESSMENT

Katie FM Marwick, MA (Hons), MBChB (Hons), MCRPsych, PhD, Honorary Specialty Registrar in General Adult Psychiatry, NHS Lothian; Clinical Lecturer in Psychiatry, University of Edinburgh, UK and Steven Birrell, MBChB, MRCPsych, PGCertClinEd, AFHEA, Consultant Psychiatrist, Queen Margaret Hospital, Dunfermline, Fife, UK