Clinical Examination Essentials
, 4th Edition
Paperback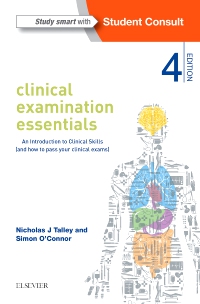 Free Shipping!
In Stock
This item has low stock levels and may be back-ordered. We'll let you know if it is back-ordered, and you will not be charged until the item ships.
From the authors that brought you the bestselling Clinical Examination comes Talley and O'Connor's Clinical Examination Essentials, 4th Edition
Clinical Examination Essentials 4e provides an introduction to the essential skills required to successfully pass your clinical exams.This text equips medical students with the confidence to assess patients by acquiring a detailed patient history and conducting a thorough physical examination.
The chapters are systematic and provide a thorough overview following by some examples of how to use learned skills in practice- both in the healthcare setting and in examinations.
If you are looking to further develop your history taking and examination technique, Clinical Examination: A Systematic Guide to Physical Diagnosis provides greater detail (and more jokes) for senior students and graduates.
Hint Boxes present handy information which assists students and junior doctors in correctly diagnosing patients, e.g. A cough of recent origin, particularly if associated with fever and other symptoms of respiratory tract infection, may be due to acute bronchitis or pneumonia
Question Boxes provide a checklist of questions which students as examiners should pose to patients to enable them to correctly identify the presenting symptoms required for an accurate diagnosis, e.g. Are you breathless at rest? On lying down? (Orthopnoea)
The EOSCE hints panel at the end of each chapter provides practice OSCE-style scenarios and answers to test all skills required for the OSCEs

A combination of clinical photographs and anatomical line drawings is a distinct improvement in this new edition. The clinical photographs represent real-life clinical signs, which students have to recognize when examining a patient.
The interactive features available in the Student Consult eBook will enable students and trainees to gain a deeper learning experience.

1 Taking the history
2 Advanced history taking
3 Beginning the examination
4 The heart and cardiovascular system
5 The chest
6 The abdomen
7 Neurology
8 The eyes, ears, nose and throat
9 The thyroid and endocrine system
10 The breasts
11 The joints
12 The skin
13 Assessment of the geriatric patient
14 Assessment of the acutely ill patient
15 Examining the systems of the body
16 Writing and presenting the history and physical examination

Nicholas J Talley, MD (NSW), PhD (Syd), MMedSci (Clin Epi)(Newc.), FAHMS, FRACP, FAFPHM, FRCP (Lond. & Edin.), FACP, Pro Vice-Chancellor, Global Research, University of Newcastle, Australia
Professor of Medicine, Faculty of Health and Medicine, University of Newcastle, Australia
President, Royal Australasian College of Physicians
Chair-Elect, Committee of Presidents of Medical Colleges (CPMC)
Hon. Treasurer, Australian Academy of Health and Medical Sciences
Senior Staff Specialist, John Hunter Hospital, Newcastle, Australia
Adjunct Professor and Consultant, Mayo Clinic, Rochester, MN, USA
Adjunct Professor, University of North Carolina, NC, USA
Foreign Guest Professor, Karolinska Institutet, Stockholm, Sweden and Simon O'Connor, FRACP DDU FCSANZ, Cardiologist, Canberra Hospital; Clinical Senior Lecturer, Australian National University Medical School, Canberra, ACT, Australia