Perioperative Nursing, 2nd Edition
Paperback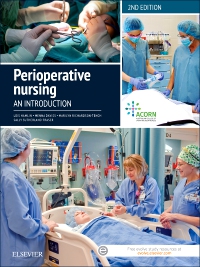 Free Shipping!
This item has low stock levels and may be back-ordered. We'll let you know if it is back-ordered, and you will not be charged until the item ships.
Perioperative Nursing 2e has been written by local leaders in perioperative nursing and continues to deliver a contemporary, practical text for Australian and New Zealand perioperative nurses.
Appropriate for nursing students and graduates entering the perioperative environment, Perioperative Nursing, 2e offers a sound foundational knowledge base to underpin a perioperative nursing career. This unique text will also be of value to those undertaking postgraduate perioperative studies, as well as to more experienced perioperative nurses seeking to refresh their knowledge or expand their nursing practice. This essential title examines the roles and responsibilities of nurses working within a perioperative environment, providing an overview of key concepts in perioperative care. The scope of this book addresses anaesthetic, intraoperative and postanaesthetic recovery care, as well as day surgery and evolving perioperative practices and environments.
Research boxes where appropriate
Feature boxes on special populations, such as paediatric, geriatric and bariatric patients
Emphasis is placed on the concept of the patient journey, working within interprofessional teams, communication, teamwork, patient and staff safety, risk management strategies and medico-legal considerations.

Now endorsed by ACORN
Aligns with the 2016 ACORN and PNC NZNO Standards
Reflects the latest national and international standards, including the NSQHS Standards, the new NMBA Standards for Practice for Registered and Enrolled Nurses and the WHO Surgical Safety Checklist
Includes two new chapters: The perioperative team and interdisciplinary collaboration and Perioperative patient safety
Supporting online resources are available on evolve.

Chapter 1 - Perioperative nursing Chapter 2 - The perioperative team and interdisciplinary collaboration Chapter 3 - Perioperative patient safety Chapter 4 - Medico-legal aspects of perioperative nursing practice Chapter 5 - The perioperative environment Chapter 6 - Infection prevention and control Chapter 7 - Assessment and preparation for surgery Chapter 8 - Patient care during anaesthesia Chapter 9 - Intraoperative patient care Chapter 10 - Surgical interventions Chapter 11 - Wound healing Chapter 12 - Postanaesthesia nursing care Chapter 13 - Evolving models of care in perioperative environments

Menna Davies, RN, MHlthSc (Nsg), GradDip Hlth Law, Cert (Periop Nsg), Cert (Sterilising Tech), FACN, FACORN, Education Consultant and Director of Health Education & Learning Partnerships, New South Wales, Australia, Sally Sutherland-Fraser, RN, BEd (Adult Ed), MEd, Cert (Periop Nsg), Cert IV TAE, MACN, FACORN, Education Consultant and Director of Health Education & Learning Partnerships, New South Wales, Australia, Benjamin Lockwood, Perioperative Nurse Educator,
South Australian Local Health Network (SALHN)
Centre for Nursing & Midwifery Education and Research (CNMER)
Division of Surgical & Perioperative Medicine (SAPOM)
Operating Theatre Suite
Flinders Medical Centre
Adelaide, SA , AUSTRALIA and Brigid Mary Gillespie, Professor of Patient Safety
School of Nursing and Midwifery,
Griffith University
QLD, AUSTRALIA