Fundamentals of Nursing: Clinical Skills Workbook, 3rd Edition
Paperback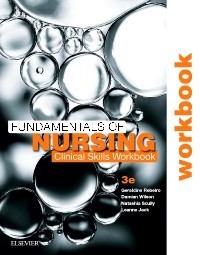 Free Shipping!
In Stock
This item has low stock levels and may be back-ordered. We'll let you know if it is back-ordered, and you will not be charged until the item ships.
Fundamentals of Nursing Clinical Skills Workbook 3rd edition is an indispensable tool that will assist you in mastering the clinical skills that are essential in becoming a confident, effective and agile nurse.

Each skill has been fully revised to align to the updated skills in Potter & Perry's Fundamentals of Nursing 5th edition, with the addition of 11 new skills to reflect contemporary nursing practice.

This 3rd edition continues to support student nurses in building their clinical knowledge and practice through clear instructions, thorough assessment tools and reflective learning.
78 Clinical Skills linking applied nursing skills to effective clinical practice, each featuring: - An overview of each skill, containing rationales to help understand how and why the skill is performed - A focus on therapeutic relationships and patient considerations, reminding students that the patient is central to care provision - Equipment checklist - A step-by-step approach, clearly explaining how to perform each skill - Critical decision points, alerting students to critical steps to ensure quality and safety in patient care - Competency checklist, providing a valuable tool for assessment, including the five-point Bondy Rating Scale - Reflection opportunity at the end of each Competency checklist to encourage learning

Directly aligned to Potter and Perry's Fundamentals of Nursing 5e
Aligned to the Registered Nurse Standards for Practice, 2016 (AUS) and Competencies for Registered Nurses, 2007 (NZ)
11 new skills, including patient handover, making a postoperative bed, assessment of fluid status, and assessment and management of the deteriorating patient
Three additional skills (not featured in the main text): - Pouching a urostomy - Regulating CVC intravenous flow rate - CVC dressing change and flush

Placing communication at the centre of person-centred care Monitoring vital signs: using a primary survey approach for patient assessment Undertaking a focused assessment: physical assessment of body systems Undertaking infection control Maintaining skin integrity and undertaking wound care Administering medications Promoting mobility Ongoing hygiene Sustaining nutrition Maintaining bowel elimination Maintaining urinary elimination Balancing fluid, electrolyte and acid-base status Additional fluid and electrolyte nursing skills - Management of central venous catheters (CVC) Preserving oxygenation Managing pain Working in acute care environments - Management and assessment of a deteriorating patient (ABCDE) Meeting the mental health needs of individuals and their carers Registered Nurse Standards for Practice 2016 (AUS) Competencies for Registered Nurses 2007 (NZ)

Geraldine Rebeiro, RN, RM, BEd, BAppSc (AdvNursing), MEd, PhD (candidate), Lecturer and Course Coordinator BNursing (Melbourne), Academic Liaison, St Vincent's Hospital, Melbourne
School of Nursing, Midwifery and Paramedicine, Australian Catholic University, Melbourne and Damian Wilson, RN, BNursing, GradCertEmergencyNursing, GradCertEd (HigherEd), MNursing (Emergency Care), PhD (candidate), Lecturer, La Trobe University, Bundoora, Vic, Australia