Mental Health in Nursing, 5th Edition
Paperback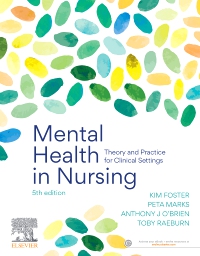 Free Shipping!
This item has low stock levels and may be back-ordered. We'll let you know if it is back-ordered, and you will not be charged until the item ships.
The 5th edition of this highly regarded text has a new title and approach which builds on the foundations of previous editions to acknowledge mental health as essential to holistic nursing practice in every setting.
Written by Kim Foster, Peta Marks, Anthony O'Brien and Toby Raeburn - a team of highly respected mental health nursing educators, researchers and clinicians, the new edition has been carefully reorganised to reflect contemporary mental health nursing practice and highlight the value of consumer perspectives. With a key focus on specialist mental health nursing, the new chapters introduce the integration of mental health nursing knowledge and skills across a range of generalist and mental health clinical settings. Mental Health in Nursing, 5th edition is an invaluable resource for all nursing students, whatever their practice area.
Restructured and presented in 3 parts:

Section 1: Positioning Practice describes the context and importance of nursing in mental health and includes a new chapter on self-care
Section 2: Knowledge for Practice addresses the specialist practice of mental health nursing. Each chapter examines specific mental health conditions, assessment, nursing management and relevant treatment approaches
Section 3: Contexts of practice features scenario-based chapters with a framework to support mental health screening, assessment, referral and support, across a range of clinical settings

PART 1: Positioning Practice

1. Why Mental Health Matters 2. Nursing and Mental Health in Context 3. The Spectrum of Mental health and illness 4. Safe in Care, Safe at work 5. Working with families in Mental Health 6. Professional Self Care

Part 2: Knowledge for Practice

7. Mental Health Assessment 8. Legal and ethical issues 9. Anxiety 10. Mood disorders 11. Substance use and co-occurring disorders 12. Psychosis and Schizophrenia 13. Eating disorders 14. Personality disorders 15. Mental disorders of childhood and adolescence 16. Mental disorders of old age 17. Autism and Intellectual Disability 18. Physical Health 19. Psychopharmacology

Part 3: Contexts of Practice

20. Mental Health in every setting 21. Primary Care & Community 22. Emergency Care 23. Generalist inpatient settings 24. Aged care 25. Perinatal & Infant Mental Health 26. Forensic Mental Health Nursing 27. Mental Health Settings

Kim Foster, RN, DipAppSc, BN, MA, PhD, CF, FACMHN, Professor of Mental Health Nursing, Australian Catholic University and NorthWestern Mental Health, Australia, Peta Marks, RN, CMHN, BN, MPH, MCFT, FACMHNRN, CMHN, BN, MPH, MCFT, FACMHN, National Project Manager, InsideOut Institute, The University of Sydney and Australian Health Consulting, Australia, Anthony O'Brien, BN, MPhil(Hons), PhD, FNZCMHN, ONZOM, Associate Professor, Mental Health Nursing, University of Waikato, New Zealand and Toby Raeburn, RN, MN(Hons), PhD, FACMHN, Churchill Fellow, Senior Lecturer and Nurse Practitioner in Mental Health, School of Nursing and Midwifery, Western Sydney University, Australia