Fundamentals of Nursing Clinical Skills Workbook, 4th Edition
Paperback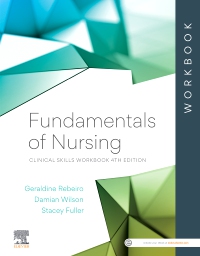 Free Shipping!
This item has low stock levels and may be back-ordered. We'll let you know if it is back-ordered, and you will not be charged until the item ships.
Directly aligned to the 6th edition of Potter and Perry's Fundamentals of Nursing, this Clinical skills workbook by Geraldine Rebeiro, Damian Wilson and Stacey Fuller allows Australian and New Zealand undergraduate nursing students to apply clinical skills to the real world effectively and according to contemporary local best practice standards.
Clear instructions and reflective learning support students to work through and master 81 clinical skills featured in the Potter and Perry's text and this Skills workbook. Detailed checklists and assessment tools enable both students and assessors to track progress.
Comprehensively updated and revised, the Fundamentals of Nursing Clinical Skills workbook 4e is an essential tool to support students to become confident and effective nurses.
4 NEW skills: blood-glucose levels; Doppler for assessment of pulses; bladder scan; and nursing informatics, as well as an updated skill on neurovascular assessment
Figures now included to illustrate particular steps in a skill
New skill featuring nursing informatics competency assessment tool (linked to online chapter in core text)
Amended Bondy rating scale for a generic assessment

Mapped to Potter & Perry's Fundamentals of Nursing 6e

Chapter/ Skills

Chapter 14 Placing communication at the heart of person-centred care 14-1 Patient handover

Chapter 16 Monitoring vital signs: using a primary survey approach for patient assessment 16-1 Assessing respirations 16-2 Measuring oxygen saturation (SpO2) 16-3 Assessing the radial and apical pulses 16-4 Measuring blood pressure (BP) 16-5 Measuring body temperature

Chapter 17 Undertaking a focused assessment: Physical assessment of body systems 17-1 Nursing physical assessment using a body systems framework 17-2 Focused neurological assessment 17-3 Focused cardiovascular assessment 17-4 Focused respiratory assessment 17-5 Focused gastrointestinal assessment 17-6 Focused renal assessment 17-7 Focused musculoskeletal assessment 17-8 Focused skin or integumentary assessment

Chapter 18 Understanding infection control 18-1 Hand washing 18-2 Preparing an aseptic field 18-3 Surgical hand antisepsis ('scrubbing'): preparing for gowning and gloving 18-4 Open gloving 18-5 Donning a sterile gown and performing closed gloving

Chapter 19 Optimising skin integrity and wound care 19-1 Performing a bacterial wound swab 19-4 Performing a wound dressing 19-2 Assessment, management and prevention of skin tears 19-3 Assessment for risk of pressure injury

Chapter 20 Ensuring medication safety 20-1 Administering oral medications 20-2 Administering nasal instillations 20-3 Administering ophthalmic medications 20-4 Administering vaginal medications 20-5 Administering rectal suppositories 20-6 Using metred-dose inhalers (MDIs) 20-7 Preparing injections 20-8 Administering injections 20-9 Adding medications to intravenous fluid containers 20-10 Administering medications by intravenous bolus 20-11 Administering intravenous medications by a secondary infusion 20-12 Administering intravenous medications by a syringe driver/mini-Infuser pump (New)

Chapter 21 Preventing and managing immobility 21-1 Applying sequential compression devices (SCDs) 21-2 Compression stockings 21-3 Positioning patients in bed 21-4 Transfer techniques

Chapter 22 Assessing and managing pain 22-1 Focused pain assessment

Chapter 23 Supporting oxygenation and perfusion 23-1 Using a hand-held doppler ultrasound probe to assess peripheral pulses (New) 23-2 Continuous Cardiac Monitoring (CCM) 23-3 Conducting a 12 Lead ECG 23-4 Suctioning 23-5 Care of patients with chest tubes 23-6 Applying a nasal cannula or oxygen mask 23-7 Cardiopulmonary resuscitation – basic life support

Chapter 24 Balancing fluid, electrolyte and acid-base status 24-1 Assessment of fluid status 24-2 Subcutaneous infusion (hypodermoclysis) 24-3 Initiating a peripheral intravenous (IV) infusion 24-4 Regulating intravenous flow rate 24-5 Changing intravenous solution and infusion tubing 24-6 Changing a peripheral intravenous dressing 24-7 Care of the patient requiring a blood transfusion Advanced Skills Management of Central Venous Catheters (CVC) Adv. Skill 1 Regulating CVC intravenous flow rate Adv. Skill 2 CVC dressing change and flush

Chapter 25 Meeting nutritional needs 25-1 Inserting a small-bore nasoenteric tube for enteral feedings 25-2 Administering enteral feedings via nasoenteric tubes 25-3 Administering enteral feedings via gastrostomy or jejunostomy tube 25-4 Blood glucose levels (NEW)

Chapter 26 Ongoing hygiene 26-1 Bathing a person 26-2 Perineal care 26-3 Menstrual hygiene 26-4 Administering a back rub 26-5 Performing nail and foot care 26-6 Providing oral hygiene 26-7 Performing mouth care for an unconscious or debilitated client 26-8 Caring for the person with contact lenses 26-9 Making an occupied bed 26-10 Making a post-operative bed

Chapter 27 Maintaining elimination: urinary 27-1 Bladder Ultrasound (New) 27-2 Collecting a mid-stream (clean-voided) urine specimen

27-3 Applying a sheath/condom drainage device 27-4 Inserting a straight or indwelling catheter Additional Skill 1 NEW Pouching a urostomy

Chapter 28 Maintaining elimination: bowel 28-1 Administering a prepared enema 28-2 Pouching an ostomy 28-3 Inserting and maintaining a nasogastric tube (for decompression)

Chapter 39 Working in acute care environments 39-1 Assessment and management of the deteriorating patient ABCDE

Chapter 40 Working in the mental health sector 40-1 Mental state examination

Plus NEW Nursing Informatics Skill and competency assessment tool

Geraldine Rebeiro, RN, RM, BEd, BAppSc (AdvNursing), MEd, PhD (candidate), Lecturer and Course Coordinator BNursing (Melbourne), Academic Liaison, St Vincent's Hospital, Melbourne
School of Nursing, Midwifery and Paramedicine, Australian Catholic University, Melbourne, Damian Wilson, RN, BNursing, GradCertEmergencyNursing, GradCertEd (HigherEd), MNursing (Emergency Care), PhD (candidate), Lecturer, La Trobe University, Bundoora, Vic, Australia and Stacey Fuller, RN, BSc(Nurs), GradCert(CritCare), GradCert(HlthProfEd), Staff Development Educator, Sir Charles Gairdner Hospital, Nedlands, Western Australia, Australia