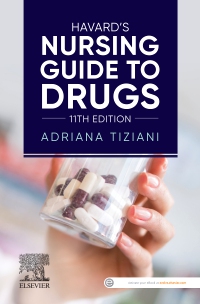 Publication Date:
03-04-2022
Havard's Nursing Guide to Drugs, 11th Edition
Paperback
Publication Date:
03-04-2022
Free Shipping!
In Stock
This item has low stock levels and may be back-ordered. We'll let you know if it is back-ordered, and you will not be charged until the item ships.
Trusted by nursing and midwifery students and clinicians in Australia since 1983, the 11th edition of Havard's Nursing Guide to Drugs is an indispensable tool for reliable, accurate and up-to-date drug information.
The guide is easy to access and user-friendly. It provides all the medication information you need to know, with drugs classified by both therapeutic class and body system, and referred to by both trade and generic name. The book includes best practice in drug administration as well as patient teaching information to improve care.
This edition has been comprehensively reviewed and updated to ensure that usage, dose, side effects, contraindications and precautions are consistent with current Australian pharmaceutical guidelines.
Updates to all entries
New drugs including immunomodifying agents, antineoplastic agents and metabolic disorder agents
Guidance on drugs 'Not to be crushed'

Acne treatment
2 Analgesics and nonsteroidal anti-inflammatory drugs (nsaids)
3 Anorectics and weightloss agents
4 Anthelmintics
5 Antialzheimer's agents
6 Antianginal agents
7 Antianxiety agents
8 Antiarrhythmic agents
9 Antiasthma agents, bronchodilators and respiratory agents
10 Antibacterial agents
11 Anticoagulant and antithrombotic agents
12 Antidepressants
13 Antidiabetic agents
14 Antidiarrhoeal agents
15 Antidotes, antagonists and chelating agents
16 Antiemetic agents
17 Antiepileptics
18 Antifungal agents
19 Antiglaucoma agents
20 Antigout and uricolytic agents
21 Antihistamines
22 Antihypertensive agents
23 Antimalarial agents
24 Antimigraine agents
25 Antimycobacterial agents
26 Antineoplastic agents
27 Antineoplastic support agents
28 Antiparkinson's agents
29 Antiplatelet agents
30 Antiprotozoal agents
31 Antipsychotic and mood stabilising agents
32 Antiulcer agents
33 Antiviral agents
34 Bladder function disorder agents
35 Bone and calcium regulating agents
36 Cardiac glycosides
37 Cholinergic and anticholinergic agents
38 Corticosteroids
39 Cough suppressants, expectorants and mucolytics
40 Dermatological agents
41 Disease modifying antirheumatic drugs (dmards)
42 Diuretics
43 Drug dependence
44 Erectile dysfunction agents
45 Eye, ear, nose and throat agents
46 Fibrinolytic agents
47 Gastrointestinal agents (miscellaneous)
48 General anaesthetics
49 Haemopoietic agents
50 Haemostatics
51 Hypothalamic and pituitary hormones
52 Immunomodifiers
53 Laxatives
54 Lipid regulating agents
55 Local anaesthetics
56 Metabolic disorders agents
57 Movement disorders agents
58 Muscle relaxants
59 Neuromuscularblocking agents
60 Opioid analgesics
61 Pregnancy, childbirth and breastfeeding
62 Pulmonary hypertension agents
63 Sedatives and hypnotics
64 Sex hormones
65 Stimulants
66 Sympathomimetic agents
67 Thyroid and antithyroid agents
68 Vaccines, immunoglobulins and antivenoms
69 Vasodilators
70 Vitamins, minerals and electrolytes
71 Miscellaneous agents

Adriana P. Tiziani, RN, BSc(Mon), Dip Ed(Melb), MEdSt(Mon), MRCNA, Course Director, Postgraduate Studies in Wound Care, School of Clinical Sciences, Faculty of Medicine, Nursing and Health Sciences, Monash University, VIC