Psychiatric and Mental Health Nursing - VST E-Book, 4th Edition
Elsevier eBook on VitalSource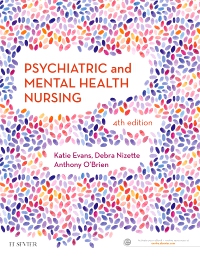 Or $0.00 with a valid access code
Psychiatric and Mental Health Nursing has established itself as Australia and New Zealand's foremost mental health nursing text and is an essential resource for all undergraduate nursing students.
This new edition has been thoroughly revised and updated to reflect current research and changing attitudes about mental health, mental health services and mental health nursing in Australia and New Zealand.
Access to this product, which may be at the discretion of your institution, is up to 3 years of online and perpetual offline access. Elsevier reserves the right to restrict or remove access due to changes in product portfolio or other market conditions.
Set within a recovery and consumer-focused framework, this text provides vital information for approaching the most familiar disorders mental health nurses and students will see in clinical practice, along with helpful suggestions about what the mental health nurse can say and do to interact effectively with consumers and their families. The fourth edition has a strong focus on the mental health nurse's experience and provides consumer perspectives giving students invaluable insights into the lived experience of consumers covering a variety of mental health disorders.

Visit evolve.elsevier.com for your additional resources:| eBook on Vital Source Resources for Students

Student practice questions
Case studies
Powerful consumer story videos

Resources for Instructors

Student practice questions
Case studies
Powerful consumer story videos
Test bank

3 new chapters: - Physical health care: addreses the physical health of people with mental health problems and the conditions that have an association with increased risk of mental health problems - Mental health promotion: engages with the ways in which early intervention can either prevent or alleviate the effects of mental health problems - Challenging behaviours: presents a range of risk assessments specifically focused upon challenging behaviours
Now addresses emerging issues, such as: - The transitioning of mental health care to primary care - The development of peer and service user led services, accreditation and credentialing - Mental Health Nurse Incentive Program

PART 1 - Preparing for psychiatric and mental health nursing Chapter 1 - The effective nurse Chapter 2 - Recovery as the context for practice Chapter 3 - Historical foundations Chapter 4 - Professional, legal and ethical issues Chapter 5 - Settings for mental health PART 2 - Influences on mental health Chapter 6 - Mental health theory and influence across the lifespan Chapter 7 - Trauma, crisis, loss and grief Chapter 8 - Physical health NEW!PART 3 - The people with whom mental health nurses work Chapter 9 - Mental health and wellness in Australia and New Zealand Chapter 10 - Working with families in mental health Chapter 11 - Indigenous mental health in Australia and New Zealand Chapter 12 - Disorders of childhood and adolescence Chapter 13 - Mental disorders of older age Chapter 14 - Intellectual disabilities Chapter 15 - Forensic mental health nursing PART 4 - Mental disorders that people experience Chapter 16 - Schizophrenia and psychotic disorders Chapter 17 - Mood disorders Chapter 18 - Personality disorders Chapter 19 - Anxiety, trauma and stress-related disorders Chapter 20 - Eating disorders Chapter 21 - Substance use and comorbid mental health disorders PART 5 - What mental health nurses can do to help Chapter 22 - Mental health promotion, prevention and primary healthcare NEW! Chapter 23 - Assessment in mental health nursing Chapter 24 - Challenging behaviour, risk and responses NEW! Chapter 25 - Therapeutic interventions Chapter 26 - Psychopharmacology

Katie Evans, RPN, BA, MLitSt, PhD, FANZCMHN, Lecturer and Convenor of the Postgraduate Mental Health Program, School of Nursing, Griffith University, Brisbane, QLD, Australia, Debra Nizette, RN, Dip App Sc-Nr Ed, B App Sc-Nursing, MNSt, FACN, FACMHN, CMHN, Director of Nursing, Nursing and Midwifery Office, Queensland Health, QLD, Australia and Anthony O'Brien, BN, MPhil(Hons), PhD, FNZCMHN, ONZOM, Associate Professor, Mental Health Nursing, University of Waikato, New Zealand