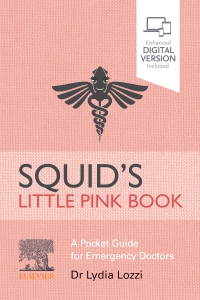 Publication Date:
10-28-2020
Squid's Little Pink E-Book VST, 1st Edition
Elsevier eBook on VitalSource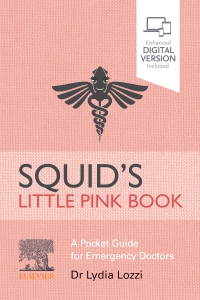 Publication Date:
10-28-2020
Or $0.00 with a valid access code
Written by Lydia Lozzi, the bespoke structure and design of Squid's Little Pink Book: A pocket guide for emergency doctors has been developed with the busy emergency doctor in mind – a compact quick-reference and memory jogger that can be easily transported in day-to-day practice.
The text offers doctors an evidence-based and reassuring confidence boost when standing at a patient's bedside postulating a diagnosis or for those panicked and uncertain moments when a nudge is needed in the right direction. It helps with preparation prior to a consult with specialty teams – what questions need to be answered and what information needs to be available to offer patients the best possible care.
Access to this product, which may be at the discretion of your institution, is up to 3 years of online and perpetual offline access. Elsevier reserves the right to restrict or remove access due to changes in product portfolio or other market conditions.
Important Phone Numbers
Important Drug Doses
Chapter 1 - Resuscitation and trauma
Chapter 2 - Procedures and ultrasound
Chapter 3 - Cardiology
Chapter 4 - Respiratory
Chapter 5 - Gastroenterology and surgery
Chapter 6 - Orthopaedics and rheumatology
Chapter 7 - Neurology
Chapter 8 - Coagulation, anticoagulation and vascular
Chapter 9 - Renal and urology
Chapter 10 - Haematology
Chapter 11 - Toxicology
Chapter 12 - Endocrine
Chapter 13 - Obstetrics and Gynaecology
Chapter 14 - Psychiatry and Substance Abuse
Chapter 15 - Dermatology
Chapter 16 - Ophthalmology
Chapter 17 - Ear, nose and throat (ENT)
Chapter 18 - Paediatrics
Chapter 19 - ECG—detailed guide
Chapter 20 - ABG—detailed guide
Chapter 21 - Retrievals, disasters, epidemics and pandemics
Index

Lydia Lozzi, BSci, BMedBSurg (Hons), FACEM, Course Coordinator - Pathology, Masters of Critical Care Professional Medical Education Sydney Medical School The University of Sydney Staff Specialist, Emergency Medicine Central Coast Local Health District Australia