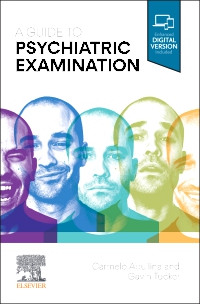 Publication Date:
08-04-2021
A Guide to Psychiatric Examination - E-Book, 1st Edition
Elsevier eBook on VitalSource
Publication Date:
08-04-2021
Or $0.00 with a valid access code
"Nothing provides a better foundation for good mental healthcare than access to a range of excellent supervisors and role models. This text is liking having a supervisor in your pocket"
Roderick McKay, Past Binational Chair, RANZCP Faculty of Psychiatry of Old Age and Adjunct Senior Lecturer, University of New South Wales, Australia
This guide is for anyone working with people with mental health conditions, covering the techniques needed for a good psychiatric interview and preparing readers to work with specific groups, presentations, and in different settings. It covers everything from the basics of psychiatric assessment through to in-depth topics and how to approach examinations.
This jargon free guide is a practical handbook that can be read quickly and consulted as needed to build confidence. It is ideal for medical students, psychiatric trainees, nurses, and allied health professionals.
Chapter 1. Being interviewed: the psychiatric assessment as a co-constructed relationship Section 1: The basics Chapter 2. Information gathering Chapter 3. Becoming a skilled interviewer Section 2: The diagnostic psychiatric interview Chapter 4. Preparing for the interview Chapter 5. The diagnostic interview Chapter 6. The mental state examination Chapter 7. Bringing it all together Chapter 8. Recording and communicating your assessment to others Section 3: Specific presentations Chapter 9. Depression Chapter 10. The suicidal person Chapter 11. Mania Chapter 12. Psychosis Chapter 13. Anxiety Chapter 14. Obsessive–compulsive symptoms Chapter 15. Post-traumatic stress disorder Chapter 16. Confusion part 1: delirium Chapter 17. Confusion part 2: dementia Chapter 18. Substance use and addiction behaviours Chapter 19. The person with feeding and eating disorders Chapter 20. Borderline personality disorder Chapter 21. Pregnancy and the postnatal period Chapter 22. The unresponsive person Chapter 23. Dealing with a potentially violent person Chapter 24. Neurodevelopmental disorders Section 4: Specific places Chapter 25. Assessments in the accident and emergency department Chapter 26. Assessments in the home Chapter 27. Assessments in the general hospital (or CL unplugged) Section 5: Specific groups Chapter 28. The assessment of children and adolescents Chapter 29. Assessment of older people Chapter 30. Assessment of people with intellectual disabilities Chapter 31. Assessment of people from different ethnic, cultural, and linguistic backgrounds Section 6: In-depth topics Chapter 32. Personality difficulties Chapter 33. The extended cognitive assessment Chapter 34. Assessment of mental capacity Chapter 35. Risk and risk assessment Chapter 36. Assessment of physical health Chapter 37. Changed behaviours in people with dementia Chapter 38. Difficult encounters Section 7: Approaching examinations Chapter 39. Examination skills Appendices Appendix 1. History-taking checklist Appendix 2. Mental state examination checklist Appendix 3. Suicide assessment checklist Appendix 4. Risk review checklist Appendix 5. Categorical classification of personality disorders Appendix 6. NEAMI health prompt Appendix 7. Montreal Cognitive Assessment (MoCA) Publishing history Index

Carmelo Aquilina, MD, FRCPsych, FRANZCP, Director, Older People's Mental Health Services, South West Sydney Local Health District, Mental Health Centre Level 1, Liverpool Hospital, New South Wales, Australia and Gavin Tucker, MB BCh BAO, MSc, Core Psychiatry Trainee, South London & Maudsley NHS Foundation Trust, London, United Kingdom