Paramedic Principles and Practice ANZ SLS
,
Simulations - SLS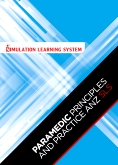 Or $0.00 with a valid access code
*** Please note – there is no print book, or print component to this purchase. ***
Paramedic Principles and Practice ANZ SLS provides access to 26 scenarios covering a wide range of common clinical presentations that paramedics working in Australia and New Zealand will experience.
Each scenario is accompanied by student-specific pre- and post-simulation activities, questions and recommended readings to encourage critical thinking and enhance clinical decision-making skills in preparation for placement.
Duration for access to this product, which may be at the discretion of your institution, is up to 36 months. Elsevier reserves the right to restrict or remove access due to changes in product portfolio or other market conditions.
Each simulation module includes:

Implementation Module – guiding overview document to use pre-planning stage
Algorithm Quick Card – shortened quick reference; outlining how the scenario will develop and what you expect to see in the patient
Patient and Participant Response Guide – academic to use to make notes about how each team member performed
Participant Role Badges – to print out and give to participants
Situation Report Guide – includes key lines to trigger the student to think about something and set a scene
Simulation Technician Notes – prompts about what to consider when setting up a scenario
Observer Evaluation Rubric - evaluation tool, where observers can note areas for improvement
Performance Checklist – defines the purpose of the scenario

Leigh Parker, GradCertEdu,GradCertICP,DipAmb(NZ), DipN, Director student development and support and lecturer in paramedicine, School of Medicine, Faculty of Health, University of Tasmania, Australia and Alan Wilson, ICP, RN, Dip Teaching, Dip Nursing, Grad Cert Intensive Care Paramedic, Grad Dip Intensive Care Paramedicine, PGDipClinEd., Lecturer: Postgraduate and BHSc (Paramedic) programme. Whitireia New Zealand. Porirua, New Zealand.