Evolve resources for Community Pharmacy Australia and New Zealand edition
, 4th Edition
Resources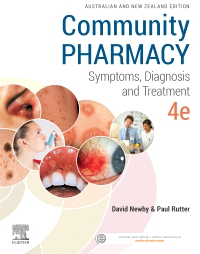 Free with corresponding textbook
Not Yet Available
Coming Soon!
Expected availability date: 09-15-2019
Community Pharmacy: Symptoms, Diagnosis and Treatment 4e continues to be the trusted guide to differential diagnosis of symptoms commonly seen by Australian and New Zealand community pharmacists.
The fourth edition has been carefully and thoroughly revised and reflects changes to over-the-counter drug scheduling and new over-the-counter drugs. In addition, the text highlights trends in pharmacy education and practice, with an emphasis on counselling, communication skills, evidence-based practice and customer requests specific to Australia and New Zealand.
David Newby, BPharm, PhD, Faculty of Health, University of Newcastle, Australia and Paul Rutter, FFRPS MRPharmS PhD, Professor of Pharmacy Practice, School of Pharmacy and Biomedical Sciences, University of Central Lancashire, Preston, UK