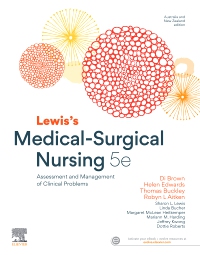 Evolve resources for Lewis's Medical-Surgical Nursing
, 5th Edition
Resources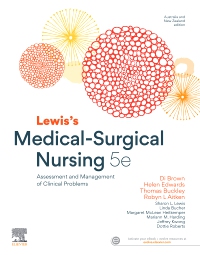 Free with corresponding textbook
Not Yet Available
Coming Soon!
Expected availability date: 10-27-2019
Lewis's Medical–Surgical Nursing ANZ 5th edition continues as the most comprehensive, go-to reference for developing the core aspects of professional nursing care in Australia and New Zealand.
With a clear framework of person-centred care, critical thinking, clinical reasoning and evidence-based practice underpinning the assessment and management of adults with complex, acute and chronic healthcare issues, the 5th edition provides nursing students with the foundations for developing expert clinical practice.
Thoroughly revised, the new edition responds to key health priorities, providing an innovative approach to addressing Indigenous health in Australia and New Zealand. Greater emphasis is also given to the issues of: self-care; examination of the nurse's role within an interprofessional team; and management of the deteriorating patient, to reflect the changing nature of nursing practice in the contemporary healthcare environment.
Diane Brown, RN, PhD, MCN, AFCHSM, Professor of Clinical Nursing, Graduate School of Health Practice, Charles Darwin University, (formerly UTS), Australia, Helen Edwards, OAM, DipAppSc., BA(Hons), PhD, RN, FRCNA, Professor, Head, School of Nursing, Queensland University of Technology, QLD, Australia, Thomas Buckley, RN, BSc, MN, PhD, Senior Lecturer/ Co-ordinator Master of Nursing (Clinical Nursing & Nurse Practitioner), Sydney Nursing School, The University of Sydney; Adjunct Associate Professor, School of Health and Human Sciences, Southern Cross University, Lismore, NSW, Australia and Robyn L Aitken, Cert Anaes/RR, B. EdSt, MEdSt, PhD
Free with corresponding textbook
Not Yet Available
Coming Soon!
Expected availability date: 10-27-2019