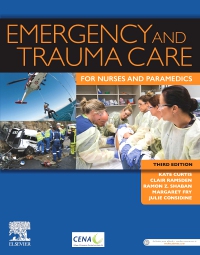 Publication Date:
11-12-2019
Evolve Resources for Emergency and Trauma Care for Nurses and Paramedics, 3rd Edition
Resources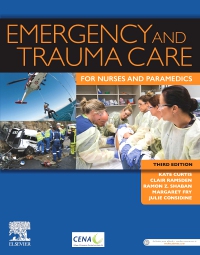 Publication Date:
11-12-2019
Or $0.00 with a valid access code
Free with purchase of new corresponding textbook
Endorsed by the College of Emergency Nursing Australasia
CENA is the peak professional association representing emergency nurses and has endorsed this text in recognition of the relevance it has to emergency nursing across Australasia.
Led by an expanded editorial team of internationally recognised clinicians, researchers and leaders in emergency care, the 3rd edition of Emergency and Trauma Care for Nurses and Paramedics continues to be the foremost resource for students preparing to enter the emergency environment and for clinicians seeking a greater understanding of multidisciplinary emergency care.
The text provides nursing and paramedicine students and clinicians with the opportunity to understand the best available evidence behind the treatment that is provided throughout the emergency care trajectory. This unique approach ultimately seeks to strengthen multidisciplinary care and equip readers with the knowledge and skills to provide safe, quality, emergency care.
The 3rd edition builds on the strengths of previous editions and follows a patient journey and body systems approach, spanning the pre-hospital and hospital environments.
Duration for access to this product, which may be at the discretion of your institution, is up to 36 months. Elsevier reserves the right to restrict or remove access due to changes in product portfolio or other market conditions.
Kate Curtis, RN, GradDipCritCare, MNurs(Hons), PhD, FCENA, Professor Emergency and Trauma Care, University of Sydney, NSW, Australia ; Clinical Nurse Consultant Emergency, Illawarra Shoalhaven Local Health District, Illawarra Health and Medical Research Institute, NSW, Australia ; Honorary Professor, Faculty of Science, Medicine and Health, University of Wollongong, NSW, Australia ; Honorary Professorial Fellow, The George Institute for Global Health, Sydney, NSW, Australia, Clair Ramsden, RN, GradCertCardiol, MHealthcareEthics, MHlthServMgt, Associate Professor, University of Technology Sydney, NSW, Australia ; Executive Director Operations, Nepean Blue Mountains Local Health District, NSW, Australia, Ramon Z. Shaban, BSc(Med) BN GradCertInfCon PGDipPH&TM MEd MCommHealthPrac(Hons1) PhD RN FCENA FACN FACIPC CICP-E, Clinical Chair and Professor of Communicable Diseases Control and Infection Prevention, Sydney Institute for Infectious Diseases, Faculty of Medicine and Health, University of Sydney, Sydney, Australia; and Chief Infection Control Practitioner and Clinical Chair of Communicable Diseases Control and Infection Prevention, Centre for Population Health, Western Sydney Local Health District, North Parramatta, Australia; and Associate Director, New South Wales Biocontainment Centre, Sydney, Australia., Margaret Fry, RN, NP, BSc(Nurs), MEd, PhD, FCENA, Professor of Nursing, University of Technology Sydney, Sydney, NSW, Australia ; Director Research and Practice Development Northern Sydney Local Health District Nursing and Midwifery Directorate, Sydney NSW, Australia ; Adjunct Professor, University of Sydney, Sydney, NSW, Australia and Julie Considine, RN, RM, GDipNurs(AcuteCare), GradCertHEd, MNurs, PhD, FACN, FCENA, Professor of Nursing, Deakin University – Eastern Health, Burwood, Victoria, Australia ; Senior Editor, Australasian Emergency Care, College of Emergency Nursing Australasia, NSW, Australia ; Director, Centre for Quality and Patient Safety Research – Eastern Health Partnership, Box Hill, Victoria, Australia
Or $0.00 with a valid access code
Free with purchase of new corresponding textbook