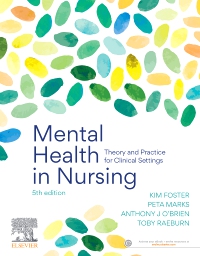 Publication Date:
10-15-2020
Evolve Resources for Mental Health Nursing, 5th Edition
Resources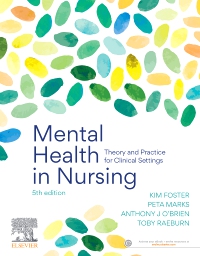 Publication Date:
10-15-2020
Or $0.00 with a valid access code
Free with purchase of new corresponding textbook
The 5th edition of this highly regarded text has a new title and approach which builds on the foundations of previous editions to acknowledge mental health as essential to holistic nursing practice in every setting.
Written by Kim Foster, Peta Marks, Anthony O'Brien and Toby Raeburn - a team of highly respected mental health nursing educators, researchers and clinicians, the new edition has been carefully reorganised to reflect contemporary mental health nursing practice and highlight the value of consumer perspectives. With a key focus on specialist mental health nursing, the new chapters introduce the integration of mental health nursing knowledge and skills across a range of generalist and mental health clinical settings. Mental Health in Nursing, 5th edition is an invaluable resource for all nursing students, whatever their practice area.
Duration for access to this product, which may be at the discretion of your institution, is up to 36 months. Elsevier reserves the right to restrict or remove access due to changes in product portfolio or other market conditions.
Kim Foster, RN, DipAppSc, BN, MA, PhD, CF, FACMHN, Professor of Mental Health Nursing, Australian Catholic University and NorthWestern Mental Health, Australia, Peta Marks, RN, CMHN, BN, MPH, MCFT, FACMHNRN, National Project Manager, InsideOut Institute, The University of Sydney; Director, Australian Health Consulting, Australia., Anthony O'Brien, BN, MPhil(Hons), PhD, FNZCMHN, ONZOM, Associate Professor, Mental Health Nursing, University of Waikato, New Zealand and Toby Raeburn, RN, MN(Hons), PhD, FACMHN, Churchill Fellow, Senior Lecturer and Nurse Practitioner in Mental Health, School of Nursing and Midwifery, Western Sydney University, Australia
Or $0.00 with a valid access code
Free with purchase of new corresponding textbook