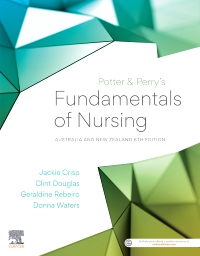 Evolve Resources for Potter and Perry's Fundamentals of Nursing ANZ edition, 6th Edition
Resources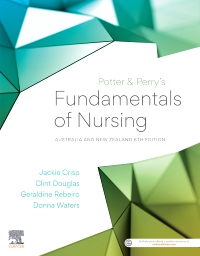 Or $0.00 with a valid access code
Free with purchase of new corresponding textbook
Now in its 6th edition, this trusted reference for nursing students supports the development of safe, effective and person-centred practice.
The text has been comprehensively revised by nursing leaders and experts from across the spectrum of clinical practice, education, research and health policy settings; and a highly experienced editorial team, which includes Jackie Crisp, Clint Douglas, Geraldine Rebeiro and Donna Waters.
Chapters of Potter & Perry's Fundamentals of Nursing, 6e engage students with contemporary concepts and clinical examples, designed to build clinical reasoning skills. Early chapters introduce frameworks such as Fundamentals of Care and cultural safety, as ways of being and practising as a nurse. These frameworks are then applied in clinical and practice context chapters throughout. Reflection points in each chapter encourage curiosity and creativity in learning, including the importance of self-care and self-assessment.
Duration for access to this product, which may be at the discretion of your institution, is up to 36 months. Elsevier reserves the right to restrict or remove access due to changes in product portfolio or other market conditions.
Jackie Crisp, RN, PhD, Consultant – Leadership and Culture Change in Healthcare, Sydney, NSW, Clint Douglas, RN, BN, MClinEpi, PhD, Conjoint Professor and Nursing Chair, School of Nursing, Queensland University of Technology & Metro North Hospital and Health Service, Brisbane, Qld, Geraldine Rebeiro, RN, RM, BAppSc(AdvNurs), BEdStuds, MEd, Senior Lecturer and National Course Coordinator BNBADM;
Course Coordinator BNBADM Melbourne;
School of Nursing, Midwifery and Paramedicine;
Australian Catholic University, Melbourne, Vic and Donna Waters, RN, BA, MPH, PhD, FACN, Professor and Academic Advisor, Faculty of Medicine and Health, The University of Sydney, Sydney, NSW
Or $0.00 with a valid access code
Free with purchase of new corresponding textbook