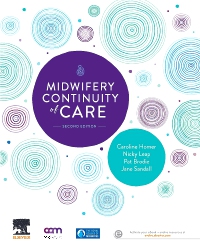 Publication Date:
04-25-2019
Evolve Resources for Midwifery Continuity of Care, 2nd Edition
Resources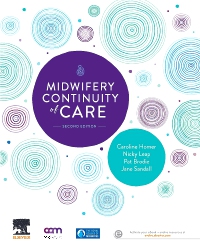 Publication Date:
04-25-2019
Or $0.00 with a valid access code
Free with purchase of new corresponding textbook
Midwifery Continuity of Care is a robust 'how to' guide to establishing midwifery continuity of care. Written by a team of international experts in their field, this book highlights lessons learned to help develop new ways of planning, implementing, evaluating and sustaining midwifery continuity of care for the benefit of women, babies and communities.
Duration for access to this product, which may be at the discretion of your institution, is up to 36 months. Elsevier reserves the right to restrict or remove access due to changes in product portfolio or other market conditions.
Chapter 1: Is midwifery continuity of care better for women and babies? What is the evidence?
Chapter 2: Introducing midwifery continuity of care in mainstream maternity services: the foundations for success
Chapter 3: Ways of providing midwifery continuity of care
Chapter 4: How can managers make midwifery continuity of care work?
Chapter 5: Building collaborative relationships to support midwifery continuity of care
Chapter 6: Ensuring safety and quality
Chapter 7: Is midwifery continuity of care cost effective?
Chapter 8: How to monitor and evaluate midwifery continuity of care
Chapter 9: Skilled, motivated and engaged: Do we have the midwifery workforce to deliver continuity?
Chapter 10: Midwifery continuity of care for specific groups
Chapter 11: Midwifery continuity of care: Theorising Towards Sustainability
Chapter 12: Midwifery continuity of care and carer: The future

Caroline Homer, PhD, RM, Co-Program Director, Maternal, Child and Adolescent Health, Burnet Institute, Victoria, Australia Emeritus Professor of Midwifery, Centre for Midwifery, Child and Family Health, Faculty of Health, University of Technology Sydney, New South Wales, Australia, Pat Brodie, Professor of Maternity Practice, Development and Research, University of Technology, Sydney, NSW, Australia, Jane Sandall and Nicky Leap, Director of Midwifery Practice and Associate Professor of Midwifery, Centre for Midwifery and Family Health, Faculty of Nursing, University of Technology, Sydney, Australia