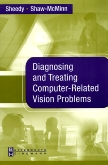 Imprint:
Butterworth-Heinemann
Diagnosing and Treating Computer-Related Vision Problems
Paperback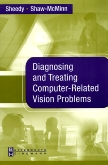 Imprint:
Butterworth-Heinemann
Free Shipping!
This item has low stock levels and may be back-ordered. We'll let you know if it is back-ordered, and you will not be charged until the item ships.
With visual symptoms occurring in 50-90 percent of workers using computers, this practical guide details careful diagnosis and treatment of visual conditions that can cause visual syndromes. This book provides the knowledge, references, materials, and action plans designed to help practitioners diagnose and manage computer-related vision disorders. It addresses the visual and environmental factors that cause the visual problems experienced by computer users, offering practical suggestions for assessing the visual ergonomics of a patient's computer workstation and reducing the visual demands of a task.
Serves as a readable and practical "how-to" guide to computer-related visual problems that guides the reader in diagnosing and treating computer-related visual disorders.
In-depth coverage addresses both the common visual problems and the environmental factors that cause them.
Action plans in each chapter suggest activities for implementing and applying strategies in the workplace.
A chapter on positioning the practice provides information on how to expand clinical practice into the area of caring for computer-users and improve patient satisfaction.
A chapter on marketing provides the tools needed to bring new patients into the reader's practice and expand the patient base.
Exercises and hand-out materials designed for patient education encourage patient compliance with treatment guidelines.
Up-to-date information on various research studies and notes discusses the evidence-based rationales behind effective practice.
Information on lens products provides information on prescribing lenses designed for computer use.
Discussions of computer-simulation instruments provides information on the purchase and use of computer simulation instruments.

1. Computer Vision Syndrome
2. Positioning Your Practice to Care for Computer-User Patients
3. Signs and Symptoms of Computer Vision Problems
4. Diagnosing and Treating Refractive Errors for Computer Users
5. Diagnosis and Treatment of Accommodative and Binocular Conditions
6. Presbyopia and Computer Use
7. Treating Ocular Pathological Conditions that Affect Computer Vision
8. Lighting
9. Reflections from the Computer Display
10. Computer Displays
11. Optimum Workstation Arrangements
12. The ECP as a Consultant providing Workplace Evaluations
13. Assisting Children and Low Vision Patients in the Use of Computers
14. Marketing Yourself as a Computer Vision Specialist

James E. Sheedy, OD, PhD, Professor of Optometry, The Ohio State University College of Optometry, Columbus, OH and Peter G. Shaw-McMinn, OD, Assistant Professor of Clinical Science, Southern California College of Optometry, Fullerton, CA