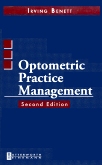 Imprint:
Butterworth-Heinemann
Optometric Practice Management, 2nd Edition
Hardcover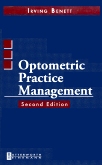 Imprint:
Butterworth-Heinemann
Free Shipping!
This item has low stock levels and may be back-ordered. We'll let you know if it is back-ordered, and you will not be charged until the item ships.
While the business aspect of an optometrist's practice may come second to patient care, optometrists today are faced with greater competition for new patients and income. This updated guide shows readers how to work smarter through effective practice management to offset reduced earnings due to fixed reimbursements of managed care and competition from 1-800 contact lens companies and chains selling discount frames and lenses. Drawing on over 40 years of experience, the author presents practical strategies for addressing the problems of day-to-day practice, and explains how to develop business and marketing plans without detracting from the optometrist's professional image. This edition features an increased focus on how to work with partners (including how to exit gracefully from a partnership), how to start a part-time practice, and how to be creative in practice.
Authored by an expert in the field of practice management and optometry for the most effective, realistic advice and guidance.
Concise, readable text synthesizes the author's 40-plus years of expertise in optometric practice.
Necessary business and marketing skills are presented in a way that is compatible the optometrist's professional image.
Tips and tools are provided on how to approach the client as both a consumer and a patient.
Helpful information for students or optometrists who own or are planning to own their own practice.

Completely re-written and updated.
4 new chapters cover topics such as practice locations, part-time practicing, managed care, management of un-met vision needs, and the office of the future.
An increased focus on how to work with partners, including how to exit gracefully from a partnership.
A discussion of how to start a part-time practice addresses real-world considerations and practical strategies.
Hot new topics such as co-management of patients, gender and ethnicity, senior patient concerns, and discounting.

1. Optometry in the 21st century
2. Location, location, location
3. Your office for the future – today
4. So you want to start a part-time office
5. Staff: how to hire and train
6. Staff: a major reason for success…or lack of it
7. What the consumer is saying
8. Harnessing eyewear materials
9. Practice management and "specialties"
10. Practice management and unmet needs
11. Newsletters: optimum weapon for private practice
12. Recalling patients successfully
13. Communications beyond newsletters and recalling
14. The management of third party care
15. Taking the Pulse of a Practice: Part I
16. Taking the Pulse of a Practice: Part II
17. How to Evaluate the Price of an Optometric Practice for Sale or Partnership
18. A Partnership Agreement that works
19. Co-Management, Insurance and Leasing vs. Buying
20. Potpourri of Practice Management Ideas
Appendices

Irving Bennett, OD, FAAO