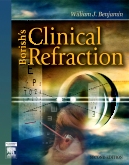 Imprint:
Butterworth-Heinemann
Borish's Clinical Refraction
,2nd Edition
Hardcover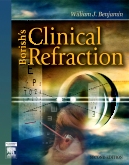 Imprint:
Butterworth-Heinemann
Free Shipping!
This item has low stock levels and may be back-ordered. We'll let you know if it is back-ordered, and you will not be charged until the item ships.
Now updated and expanded to cover the latest technologies, this full-color text on clinical refraction uses an easy-to-read format to give optometry students and practitioners all the important information they need. Also covers a wide range of other aspects of the eye exam, including anterior and posterior segment evaluations, contact lens, ocular pharmacology, and visual field analysis. Four new chapters cover wavefront-guided refraction, optical correction with refractive surgeries, prosthetic devices, and patients with ocular pathology.
Offer precise, step-by-step how-to's for performing all of the most effective refractive techniques.
Presents individualized refractive approaches for the full range of patients, including special patient populations.
Contriubtors are internationally recognized, leading authorities in the field.

New full-color design with full-color images throughout.
Completely updated and expanded to include current technologies.
A new chapter on Optical Correction with Refractive Surgeries, including keratoplasty, traditional refractive surgeries (e.g. LASIK and PRK), crystalline lens extraction with and without pseudophakia, the new presbyopic surgery, etc.
A new chapter on Wavefront Guided Refraction provides information on the advantages and limitations the Hartmann-Shack Method for objective refraction plus aberrometry and the refraction and the use of in the correction of the eye with spectacles, contact lenses, and refractive surgery.
A new chapter on Patients with Ocular Pathology reflects the most current knowledge of patients with ocular pathologies.
Provides information on Optical Correction with Prosthetic Devices, including corneal onlays, stromal implants, phakic intraocular lenses, etc.
Includes new chapters and/or discussions on such topics as: Aberrations of the Eye, Refractive Consequences of Eye Pathology, Diagnosis and Treatment of Dry Eye, Diagnosis of Pathology of the Anterior Segment, Diagnosis of Glaucoma, and Diagnosis of Pathology of the Posterior Segment.
Visual Acuity chapter expanded to include the effect of refractive error on visual acuity and statistics on how much of a change in visual acuity is significant.
Objective Refraction, Corneal Topography, and Visual Field Analysis chapters include the addition of new electro-optical and computer techniques and equipment.
Chapters on Multifocal Spectacle Lenses and Contact Lenses now cover newer progressive addition lenses and contact lenses that are now on the market.
Electrodiagnosis chapter revised to take a more clinical approach.

SECTION I: PRINCIPLES

1. Refractive Status of the Eye

2. Incidence and Distribution of Refractive Anomalies

3. Development of the Ametropias

4. Accommodation, the Pupil, and Presbyopia

5. Fusion and Binocularity

SECTION II: ADJUNCT EXAMINATIONS

6. The Ophthalmic Case Historian

7. Visual Acuity

8. Contrast Sensitivity and Glare Testing

9. Color Vision

10. Ocular Motility

11. The Physical Examination

12. Pharmacology and Refraction

13. Anterior Segment Evaluation

14. Posterior Segment Evaluation

15. Visual Field Screening and Analysis

16. Clinical Electrophysiology

SECTION III: THE REFRACTION

17. Corneal Topography

18. Objective Refraction: Retinoscopy, Autorefraction and Photorefraction

19. Wavefront-Guided Refraction

20. Monocular and Binocular

21. Phorometry and Stereopsis

SECTION IV: ANALYSIS AND PRESCRIPTION OF OPTICAL CORRECTIONS

22. Analysis, Interpretation, and Prescription for the Ametropias and Heterophorias

23. Correction with Single Vision

24. Correction with Multifocal Spectacle Lenses

25. Prescription of Absorptive Lenses

26. Applied Optics of Contact Lens Correction

27. Clinical Optics of Contact Lens Prescription

28. Correction of Presbyopia with Contact Lenses

29. Optical Correction with Refractive Surgeries and Prosthetic Devices

SECTION V: SPECIAL CONDITIONS

30. Infants, Toddlers, and Children

31. Patients with Amblyopia and Strabismus

32. Patients with Anisometropia and Aniseikonia

33. Patients with High Refractive Error

34. Patients with Irregular Corneal Astigmatism

35. The Elderly

36. Patients with Low Vision

37. Patients with Ocular Pathology

William J. Benjamin, OD, MS, PhD, Professor of Optometry and Physiological Optics, Director of Clinical Research and Senior Scientist, Vision Science Research Center, University of Alabama at Birmingham, School of Optometry, Birmingham, AL