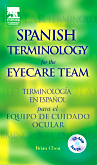 Imprint:
Butterworth-Heinemann
Spanish Terminology for the Eyecare Team
,
Paperback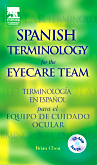 Imprint:
Butterworth-Heinemann
Free Shipping!
This item has low stock levels and may be back-ordered. We'll let you know if it is back-ordered, and you will not be charged until the item ships.
Convenient and pocket-sized, this unique eyecare resource helps improve communication and patient care in every office that serves Spanish-speaking patients. It mimics how each member of the eyecare team interacts with patients, aiding clinicians and office workers in formulating explanations, instructions, and questions in Spanish. A companion audio CD-ROM provides the English-to-Spanish translation of every phrase in the book.
Covers everything from salutations to case histories and follow up care — in the style the eyecare team interacts with patients, related to both administration and procedures.
Uses simple, non-technical terms to maximize patient comprehension for both yes/no and open-ended questions.
Includes a companion audio CD-ROM that provides the English-to-Spanish translation of every phrase in the book, plus printable patient handouts in Spanish.
Features contributions by an ophthalmologist to enhance surgical coverage, while contributions by an optician provide more coverage of dispensing and front office exchanges.
Contains anatomical diagrams labeled in Spanish.
Provides extensive coverage of contact lenses and specific conditions such as eye injuries.
Includes a glossary offering an English-to-Spanish list of common words and phrases divided by categories — such as days of the week, interrogative questions, common optometric terms, and other terms in common use that are not necessarily related to optometry.
Provides several versions of equivalent expressions so that users with different styles of communication will be able to select the expressions that they like best.

1. Pronunciation
2. Salutations
3. Communicating and Courtesy
4. Taking a History
5. Visual Acuity
6. Ocular Neurology
7. Directing Gaze for Cover Test, Retinoscopy, Slit Lamp, and Fundoscopy
8. Stereoacuity
9. Color Vision (Pseudoisochromatic and D-15)
10. Positioning the Patient for Keratometry, Corneal Topography, Slit Lamp, Refraction, Binocular Indirect Ophthalmoscopy, and Drop Instillation
11. Visual Fields
12. Retinoscopy
13. Refraction, Binocular Humphriss
14. Near Testing with NRA/PRA, Binocular Cross-Cylinder, and Free-Space Trial
15. Goldmann Tonometry
16. Gonioscopy and Contact Lens Fundoscopy
17. Dilation Drops
18. Binocular Indirect Ophthalmoscopy
19. Special Ophthalmic Procedures
20. Ophthalmic Dispensary
21. Working with Children
22. Basic Explanations
23. Explanations for Specific Conditions
24. Office Administration
25. Informal Expressions
Glossary
Suggested Reading

Brian Chou, OD, Private Practice, Carmel Mountain Vision Care, San Diego, CA, USA