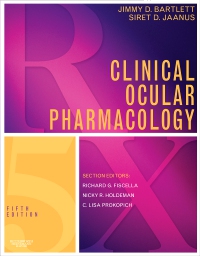 Imprint:
Butterworth-Heinemann
Clinical Ocular Pharmacology, 5th Edition
Hardcover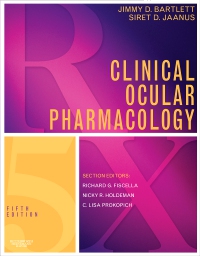 Imprint:
Butterworth-Heinemann
Free Shipping!
This item has low stock levels and may be back-ordered. We'll let you know if it is back-ordered, and you will not be charged until the item ships.
Written by experts in the field, this comprehensive resource offers valuable information on the practical uses of drugs in primary eye care. Discussions of the pharmacology of ocular drugs such as anti-infective agents, anti-glaucoma drugs, and anti-allergy drugs lead to more in-depth information on ocular drugs used to treat a variety of disorders, including diseases of the eyelids, corneal diseases, ocular infections, and glaucoma. The book also covers ocular toxicology, focusing on drug interactions, ocular effects of systemic drugs, and life-threatening systemic emergencies.
A logical organization makes it easy to find essential information.
Complete coverage of the basic fundamentals of pharmacology such as ocular drug delivery and ocular drug formulations.
Comprehensive reviews of the pharmacology of specific classes of agents such as the cycloplegics, antiglaucoma drugs, anti-inflammatory drugs, ocular irrigating solutions, and contact lens care products.
In-depth information on ocular drugs used in clinical practice, including chapters on drugs used to treat eyelid disorders, lacrimal diseases, conjunctiva diseases, corneal diseases, allergies, uveitis, postoperative cataract, retinal diseases, and glaucoma.
Coverage of ocular toxicology, including drug interactions, ocular effects of systemic drugs, and life-threatening systemic emergencies.

Completely revised and updated content that reflects the latest advances in pharmacology.
Updated information on post-operative drugs, including LASIK follow up medications.
Expanded coverage in the chapters on Anti-infective Drugs, Anti-allergy Drugs and Decongestants, and Lubricants and Other Preparations of Ocular Surface Disease that includes the latest advancements in antibiotics and medications used to treat allergies and dry eye.
A dosage quick reference guide on the inside front cover for quick and easy access.
Information on the use of herbal medications.

Part One: Fundamental Concepts in Ocular Pharmacy

Chapter 1: Pharmacotherapy of the Ophthalmic
Patient

Chapter 2: Ophthalmic Drug Formulations

Chapter 3: Ophthalmic Drug Delivery

Chapter 4: Pharmaceutical and Regulatory Aspects of Ocular Drug Administration

Chapter 5: Legal Aspects of Drug Administration

Part Two: Pharmacology of Ocular Drugs

Chapter 6: Local Anesthetics

Chapter 7: Analgesics for Treatment of Acute Ocular Pain

Chapter 8: Mydriatic and Mydrilytics

Chapter 9: Cycloplegics

Chapter 10: Ocular Hypotensive Drugs

Chapter 11: Anti-Infective Drugs

Chapter 12: Anti-Inflammatory Drugs

Chapter 13: Antiallergy Drugs and Decongestants

Chapter 14: Preparations for Dry Eye and Ocular Surface Disease

Chapter 15: Antiedema Drugs

Chapter 16: Dyes

Chapter 17: Nutritional Agents

Chapter 18: Drugs for Retinal Diseases

Part Three: Ocular Drugs in Clinical Practice

Chapter 19: Topical and Regional Anesthesia

Chapter 20: Dilation of the Pupil

Chapter 21: Cycloplegic Refraction

Chapter 22: Neuro-Ophthalmic Disorders

Chapter 23: Diseases of the Eyelids

Chapter 24: Diseases of the Lacrimal System

Chapter 25: Diseases of the Conjunctiva

Chapter 26: Diseases of the Cornea

Chapter 27: Allergic Eye Disease

Chapter 28: Diseases of the Sclera

Chapter 29: Uveitis

Chapter 30: Postoperative Care of the Cataract Patient

Chapter 31: Diseases of the Retina

Chapter 32: Thyroid-Related Eye Disease

Chapter 33: Pharmacologic Management of Strabismus

Chapter 34: Medical Management of the Glaucomas

Part Four: Toxicology

Chapter 35: Ocular Effects of Systemic Drugs

Jimmy D. Bartlett, OD, DOS, ScD, Professor of Optometry, School of Optometry, University of Alabama at Birmingham; Professor of Pharmacology and Toxicology, University of Alabama School of Medicine, Birmingham, AL, USA and Siret D. Jaanus, PhD, LHD, Professor of Pharmacology, Department of Biological Sciences, State University of New York, State College of Optometry, NY; Professor Emerita, Southern California College of Optometry, Fullerton, CA, USA