Professionalism in Physical Therapy, 1st Edition
Paperback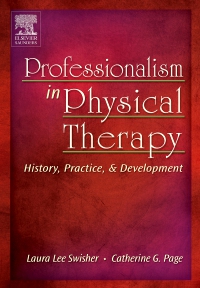 Free Shipping!
This item has low stock levels and may be back-ordered. We'll let you know if it is back-ordered, and you will not be charged until the item ships.
As the role of the physical therapist widens to include more primary care and diagnostic responsibilities, there is a greater need for a single, up-to-date resource that explores professional roles and developments in this changing field. This new book is the definitive reference on this important topic.

This concise book provides information on every vital area important to professionalism: documentation, law and ethics, and leadership - all in the context of the five roles of the physical therapist as defined by the APTA's Guide to Physical Therapist Practice, 2nd Edition. Readers will find information on the history of professionalism in physical therapy, the five roles of the physical therapist (Patient/Client Manager, Consultant, Critical Inquirer, Educator, and Administrator), the role of the physical therapist in today's health care system, and professional leadership and development. Case studies, "how to lists" and "tips from the field" encourage critical thinking and provide strategies for various issues. The book also offers tips on preparing a portfolio, determining leadership style, and preparing a professional development plan based on the APTA's five roles.
Develops and defines principles and concepts of professionalism to guide physical therapists in times of change
Follows the APTA's Guide and includes quotes and information from this document throughout
Offers a comprehensive history of physical therapy, with unique information on origins of the profession
Offers comprehensive coverage of legal and ethical issues, showing how these issues affect the entire practice of physical therapy
Discusses billing and reimbursement practices, with specific information on how to document and bill as an aspect of practice
Defines and explains the role of the consultant, both as an autonomous health care provider or as a member of a health care team
Features real-life case studies and discussion questions at the end of each chapter to encourage practical application of concepts and test readers' knowledge
Provides end-of-chapter "tips" to help readers develop best practices

I. Historical Perspective and Professional Practice Issues
1. The Physical Therapist as Professional
2. The History of the Profession
3. Contemporary Practice Issues
II. The Five Roles of the Physical Therapist
4. Physical Therapist as Patient /Client Manager
5. Physical Therapist as Consultant
6. Physical Therapist as Critical Inquirer
7. Physical Therapist as Educator
8. Physical Therapist as Administrator
III. The Complex Environment of Health Care and Professional Development
9. The Organizational, Political, and Cultural Context of Professionalism in the U.S. Health Care System
10. Professional Development, Leadership, and Exemplary Practice
11. The Future

Laura Lee (Dolly) Swisher, PT, PhD, University of South Florida, College of Medicine, School of Physical Therapy, Tampa, FL, USA and Catherine G. Page, PhD, PT, Professor and Academic Coordinator of Clinical Education, School of Physical Therapy, College of Medicine, University of South Florida, Tampa, FL, USA