Integrative Medicine for Children
,
Hardcover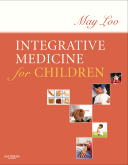 Free Shipping!
In Stock
This item has low stock levels and may be back-ordered. We'll let you know if it is back-ordered, and you will not be charged until the item ships.
Whether you initiate alternative therapies for children, or simply need to respond when asked for information or advice, it's crucial to have the most current, evidence-based information so that you can safely and effectively integrate CAM therapies with conventional treatment. This innovative and reliable reference is the ideal resource to have at hand. With its focus on integrating conventional medicine with the best complementary therapies for children, it familiarizes you with the scientific evidence and rationales for various CAM therapies, and clearly describes how to use them, in conjunction with conventional medicine. You'll find the information you need to distinguish among those therapies with good evidence, those that are safe but not yet proven to be effective, and those contraindicated for certain conditions.
Covers a wide range of complementary and alternative therapies, focusing on those most often utilized with children: mind-body approaches (hypnosis, mind/body, probiotics, spirituality); manual therapies (chiropractic, massage, osteopathy, psychological); lifestyle approaches (nutrition, Qigong); alternative systems (homeopathy, naturopathy); energy medicine (acupuncture, aromatherapy, herbal, laser, magnets); and biological agents (Chinese and Western herbs and probiotics).
57 of the most common pediatric conditions are comprehensively discussed, first with a focus on conventional diagnostic and treatment information, then with authoritative information on the most effective and evidence-based CAM therapies available for treatment of the condition.
Presents an integrative approach, combining conventional and alternative therapies.
Helps you answer questions relevant to today's patients, such as giving echinacea for a cold, the use of acupuncture to treat ADHD, and which alternative therapies may be used to avoid side effects of conventional medication.




Section I: Complementary and Alternative Therapies




1. Introduction




2. Mind/Body Approaches



Hypnosis


Mind/Body


Spirituality



3. Manual Therapies



Chiropractic


Massage


Osteopathy


Psychological



4. Lifestyle Approaches



Nutrition


Qigong



5. Alternative Systems



Homeopathy


Naturopathy



6. Energy Medicine



Acupuncture


Aromatherapy


Herbal


Laser


Magnets



7. Biological Agents



Probiotics


Chinese Herbs


Western Herbs

Section II: Common Pediatric Conditions




8. Abdominal Pain




9. Acne




10. Allergies




11. Arthritis




12. Asthma




13. Attention Deficit Hyperactivity Disorder




14. Autism




15. Bronchiolitis (Croup)




16. Bruises




17. Burns




18. Cancer




19. Cerebral Palsy




20. Childhood Illnesses and Vaccines




21. Chronic Pain




22. Chronic Urticaria




23. Colic




24. Concussion




25. Conjunctivitis




26. Constipation




27. Cough




28. Depression




29. Diaper Rash (Yeast Infection)




30. Diarrhea




31. Drooling




32. Eczema




33. Enuresis/Bed wetting




34. Epilepsy/seizures




35. Epistaxis




36. Fever




37. Fifth Disease




38. Gastroesophageal Reflux




39. Headache




40. Heat Rash




41. Hiccups




42. Hives




43. Impetigo




44. Immune System




45. Inflammatory Bowel Disease/Chron's/Ulcerative Colitis




46. Motion Sickness




47. Night Terror




48. Obesity




49. Otitis Externa




50. Otitis Media




51. Pharyngitis




52. Pinworms




53. Primary Teeth Eruption




54. Ringworm




55. Roseola




56. Rubella




57. Scabies




58. Stuttering




59. Thrush/Yeast Infection




60. Umbilical Hernia




61. Upper Respiratory Tract Infection




62. Urinary Cystitis




63. Vomiting

Appendices




Appendix A: Homeopathy




Appendix B: Acupuncture Meridians




Appendix C: Chinese Herbs




Appendix D: Magnets

May Loo, MD, Assistant Clinical Professor, Department of Pediatrics and Department of Pediatric Anesthesiology, Stanford Medical Center, Palo Alto, CA; Director, Neurodevelopmental Program, Department of Pediatrics, Santa Clara County Valley Medical Center, San Jose, CA