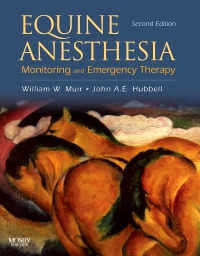 Publication Date:
12-08-2008
Equine Anesthesia, 2nd Edition
Hardcover
Publication Date:
12-08-2008
Free Shipping!
This item has low stock levels and may be back-ordered. We'll let you know if it is back-ordered, and you will not be charged until the item ships.
All veterinary team members involved in the everyday care of horses that require anesthesia or special emergency care will benefit from this reliable and inclusive resource. This text provides all of the information needed to prepare, conduct, and monitor the administration of drugs in order to produce safe and effective anesthesia, treat pain, respond to adverse effects, and perform and monitor emergency and critical care treatment. It is the most comprehensive and detailed book available on these subjects, addressing the needs and concerns of practitioners in both hospital and field settings.
Discusses all aspects of equine anesthesia, including history, physiology, pharmacology, drug dosages, patient preparation, induction-maintenance-recovery of anesthesia management of potential complications, and more.
Provides a detailed review of the respiratory and cardiovascular physiology of the horse.
Provides thorough coverage of preoperative pain management in horses.
Covers emergency medical care and managing anesthetic complications in both hospital and field situations.
Includes information on the latest anesthetic drugs, including safe and effective protocols for different procedures, and the most up-to-date monitoring techniques.
Each contributor is a recognized expert in his or her respective equine specialty, renowned for clinical as well as academic and research expertise.

A complete update of all drug information and pain management techniques.
The very latest research findings and clinical applications of anesthetic agents and techniques.
The most recent developments in post-anesthetic care and monitoring.
A chapter on intravenous anesthetic and analgesic adjuncts to inhalation anesthesia.
A chapter on anesthesia and analgesia for donkeys and mules.
A chapter on perioperative pain management.
Many new illustrations as well as tables, graphs, boxes, key points, and summaries that make information instantly accessible.

Chapter 1: History of Equine Anesthesia

William W. Muir III

John A.E. Hubbell


Chapter 2: The Respiratory System

N. Edward Robinson


Chapter 3: The Cardiovascular System

Colin C. Schwarzwald

John D. Bonagura

William W. Muir III


Chapter 4: Stress Associated with Anesthesia and Surgery

Ann E. Wagner


Chapter 5: Physical Restraint

James T. Robertson

William W. Muir III


Chapter 6: Preoperative Evaluation: General Considerations

James T. Robertson

Claire Scicluna


Chapter 7: Venous and Arterial Catheterization and Fluid Therapy

Joanne Hardy


Chapter 8: Monitoring Anesthesia

John A.E. Hubbell

William W. Muir III


Chapter 9: Principles of Drug Disposition and Drug Interaction in Horses

Richard A. Sams

William W. Muir III


Chapter 10: Anxiolytics, Nonopioid Sedative-Analgesics, and Opioid Analgesics

William W. Muir III


Chapter 11: Local Anesthetic Drugs and Techniques

William W. Muir III

Roman T. Skarda


Chapter 12: Intravenous Anesthetic Drugs and Anesthetic Techniques

William W. Muir III


Chapter 13: Intravenous Anesthetic and Analgesic Adjuncts to Inhalation Anesthesia

Kazuto Yamashita

William W. Muir III


Chapter 14: Tracheal and Nasal Intubation

Richard M. Bednarski


Chapter 15: Inhalation Anesthetics and Gases

Eugene P. Steffey


Chapter 16: Anesthetic Equipment

Richard M. Bednarski


Chapter 17: Oxygen Supplementation and Ventilatory Support

Carolyn L. Kerr

Wayne N. McDonell


Chapter 18: Anesthesia and Analgesia for Donkeys and Mules

Nora S. Matthews


Chapter 19: Peripheral Muscle Relaxants

John A.E. Hubbell

William W. Muir III


Chapter 20: Perioperative Pain Management

Phillip Lerche

William W. Muir III


Chapter 21: Considerations for Induction, Maintenance, and Recovery from Anesthesia

John A.E. Hubbell

William W. Muir III


Chapter 22: Anesthetic Associated Complications

William W. Muir III

John A.E. Hubbell


Chapter 23: Cardiopulmonary Resuscitation

William W. Muir III

John A.E. Hubbell


Chapter 24: Anesthetic Protocols and Techniques for Specific Procedures

John A.E. Hubbell

William W. Muir III


Chapter 25: Anesthetic Risk and Euthanasia

Lori A Bidwell

John A.E. Hubbell

William W. Muir III


Appendices

Respiratory Abbreviations Used in the Book

Drug Schedules

Equine Recovery Sheet

Pain Management Plan

Anesthesia Equipment Companies

William W. Muir, DVM, MSc, PhD, DACVA, DACVECC, Regional Director, American Academy of Pain Management, Veterinary Clinical Pharmacology Consulting Services, Columbus, Ohio and John A. E. Hubbell, DVM, MS, DACVA, Professor of Anesthesia, Department of Veterinary Clinical Science, College of Veterinary Medicine, The Ohio State University, Columbus, Ohio